Peter's Caramel Loaf is a beloved favorite among confectioners & home bakers alike. Peter's Caramel's authentic flavor profile strikes the perfect balance between rich buttery goodness & the alluring sweetness of brown sugar. Known for its workable texture & delightful stretch, this premade caramel loaf is perfect for creating pure caramel confections, pecan clusters, caramel coated apples & so much more. The shelf-stable nature of Peter's Caramel Loaf ensures that you always have a ready-to-use caramel block on hand, saving you time & effort in the kitchen. Whether you are a seasoned baker, or a novice pastry chef, experimenting with caramel for the first time, this premade Peter's Caramel Loaf is sure to elevate your confectionery creations!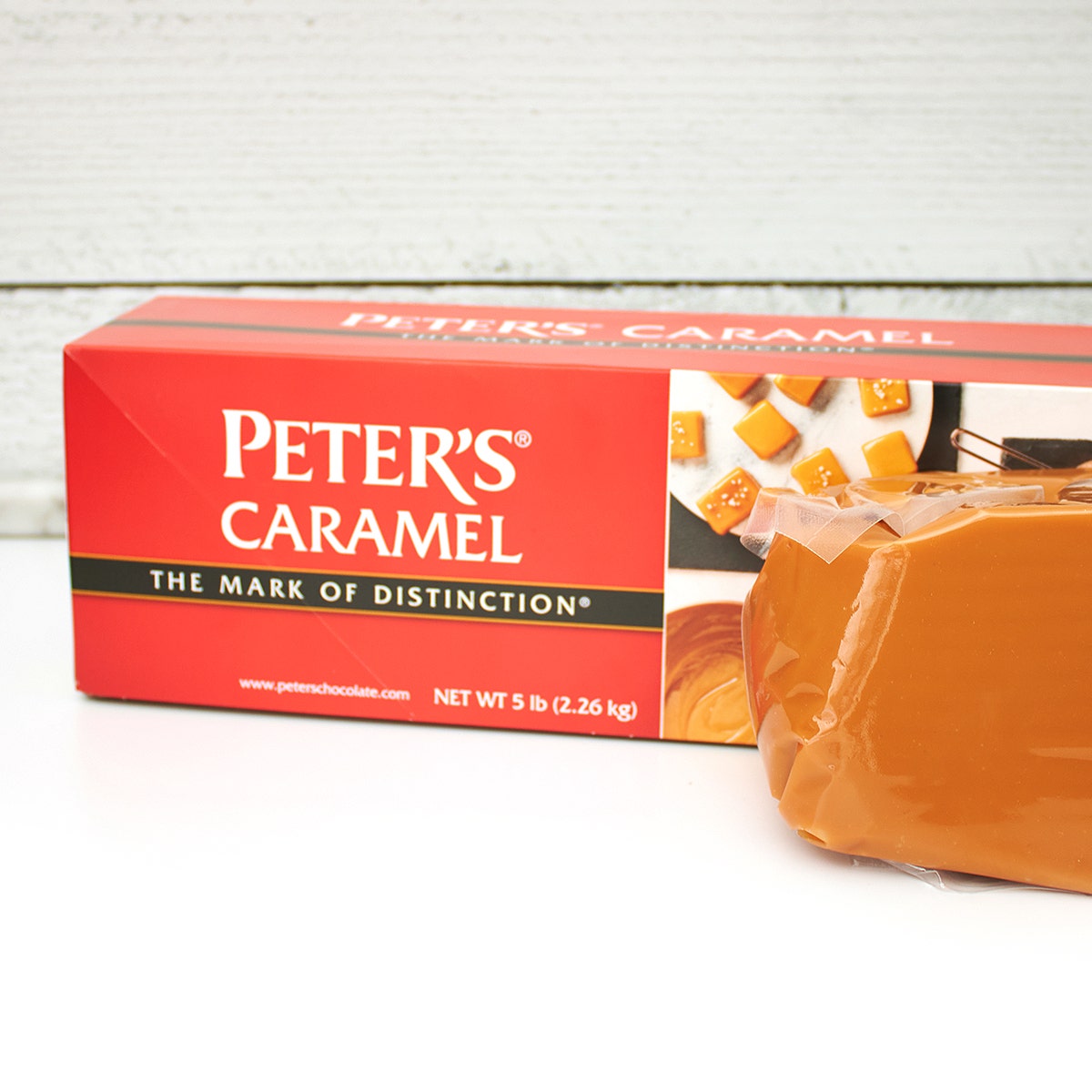 How to Melt Peter's Caramel Loaf:

Double Boiler:
Prepare a heavy-bottomed saucepan or a double boiler. Ensure the boiling water does not touch the pan or bowl that will hold your caramel as no water should come in contact with your caramel.
Slice the desired amount of Peter's Caramel Loaf & put it in the bowl going over the double boiler. If you are following a specific recipe, be sure to weigh out the exact amount of Peter's Caramel that the recipe calls for.
Melt the Peter's Caramel on low to medium heat, stirring constantly.
PRO TIP: use a rubber spatula instead of a whisk to minimize air bubbles.
The temperature of your caramel should remain between 160ºF- 180ºF while melting.
Once you've reached the desired consistency, remove your Peter's Caramel from the heat to avoid overcooking or burning.
Microwave:
Place the desired amount of Peter's Caramel in a microwave safe bowl.
Cook on high for 1 minute, remove & stir.
Cook on high at 50% power for another minute & stir.
Repeat cooking at 50% power in 1 minute intervals, stirring in between, until your Peter's Caramel is fully melted.
PRO TIP: To avoid burning your caramel, do not allow Peter's Caramel to exceed 180ºF.
Stir occasionally with a rubber spatula to maintain the desired temperature & consistency.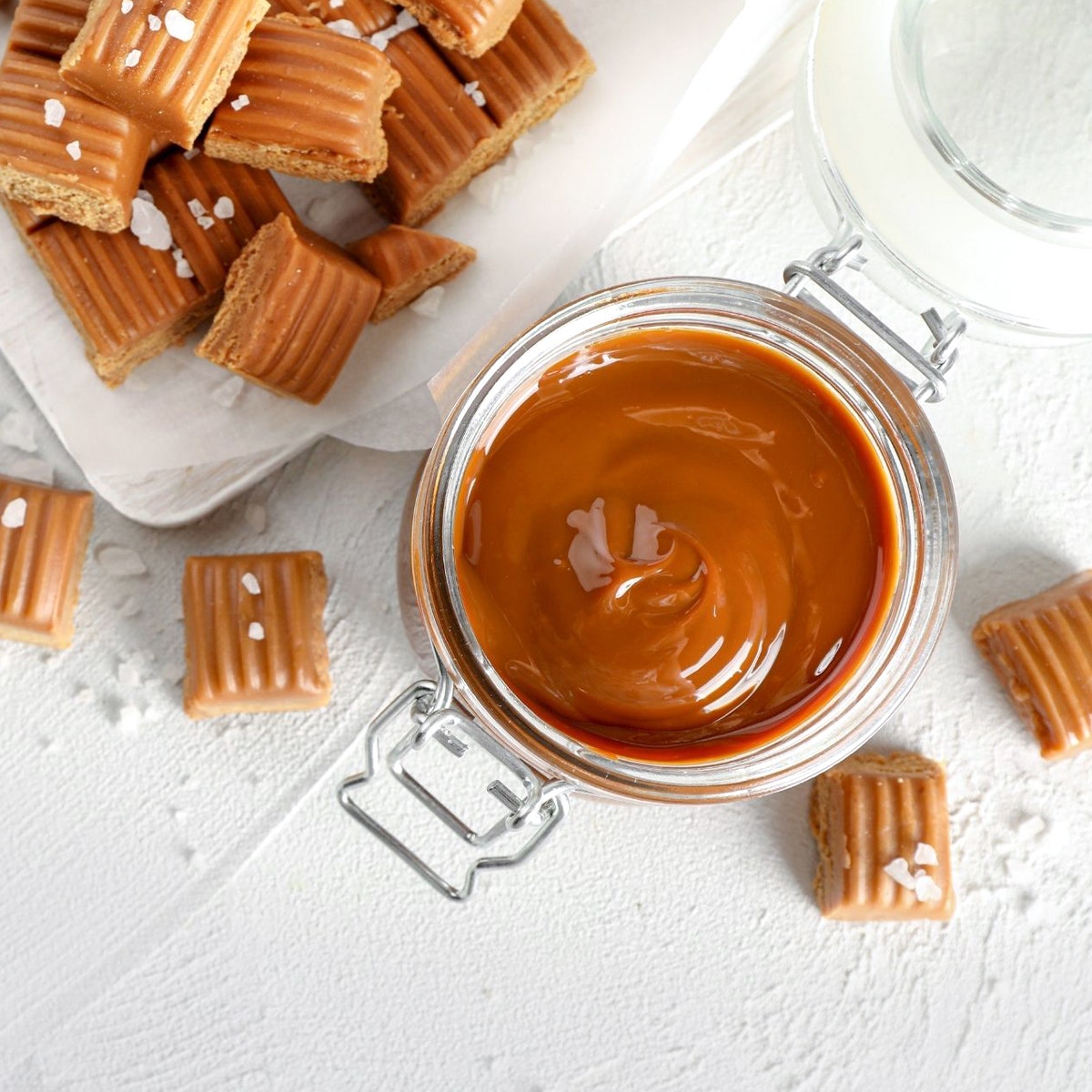 PRO TIP: Add in 1lb of white coating wafers (such as our Sweet Shoppe White Coating Wafers) to every 5lbs of caramel to avoid air bubbles, improve elasticity & cold flow (when caramel collapses or starts to sag over time once it dries) while dipping fruit such as caramel apples.

Cleaning up after melting Peter's Caramel is much easier when it's done promptly. Warm water & soap should be sufficient to clean your utensils. Any leftover melted caramel can be stored in an airtight container in a dark cool place, just like your chocolate wafers. Keep in mind for future use, the texture of Peter's Caramel may slightly change upon reheating depending on the temperature the caramel reaches while working with it.

If you are looking for a more liquidy caramel to use for filling bonbons or drizzling, Peter's Liquid Caramel might be exactly what you're looking for.

If you still don't know which caramel to use or have further questions about melting Peter's Caramel Loaf, please reach out to our customer service team at info@stovercompany.com.