Peter's Caramel is the premiere, ready made caramel, beloved by pastry chefs, confectioners & bakers alike. Their rich caramel starts with a generous buttery taste at the forefront & ends with a touch of toasted sweetness for a well-balanced overall flavor profile. Our customers use Peter's Caramel to create rich caramel candy centers, caramel apples, dipped pretzels and so many more delicious treats.
Just like melting coating wafers, there are several methods you can use to melt Peter's Caramel but we do recommend that you follow a couple best practices.
First and foremost, caramel should always be melted down to be between 125-150 degrees F. If you exceed 150 degrees, your caramel will burn which will affect both its quality & flavor. If you burn your caramel, don't worry - it happens but we do recommend throwing it out & starting over.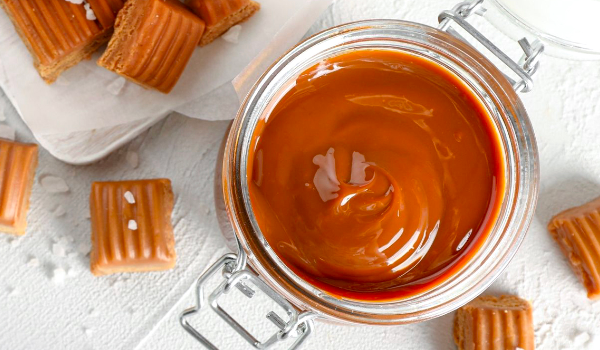 Let's explore a few different methods for melting caramel: microwave, double boiler, stove top & oven.

Microwave:
Add caramel to a microwave safe bowl & melt the caramel on high for approximately one minute (60 seconds). Stir to make sure that the heat is evenly distributed then put the bowl back in the microwave on 50% power for another minute. If you feel as though the caramel still hasn't melted all the way through, place it back in the microwave on 50% power for 30 more seconds. Repeat these steps until the caramel is fully melted.
Please note that all microwaves vary in temperature.
Double Boiler:
Set up your double boiler on the stove top as normal & add your Peter's Caramel to the top bowl. Start with your heat on low to help prevent your caramel from burning & only increase temperature as needed. Stir occasionally for the next 5-10 minutes until the caramel is sufficiently melted. While this method may take a little longer than using the microwave,the double boiler will help you keep the caramel from cooling off while you are working with it.

Stove Top:
Place Peter's Caramel in a pot on the stove & turn your heat on to low. Stir occasionally to keep the heat evenly distributed & prevent burning. This method takes a little more care as the caramel can easily burn when placed directly in a pot.

Oven:
Turn your oven on to 200 degrees F, or your lowest setting. Set the timer for between 60-90 minutes for the caramel to melt completely. Check the caramel occasionally with a thermometer to ensure you do not exceed 150 degrees F. We recommend stirring the caramel every five minutes to evenly distribute the heat.

Tips: - Peter's Caramel is easy to use. Here at Stover & Company, we carry both Peter's Caramel Loaf and Peter's Liquid Caramel. Peter's Caramel Loaf is very versatile as it can be melted, rolled out, cut and shaped to how you want it. Peter's Liquid Caramel is ideal for "one-shot" shell molded confections, centers or toppings for any baked goods, pastries & ice cream products.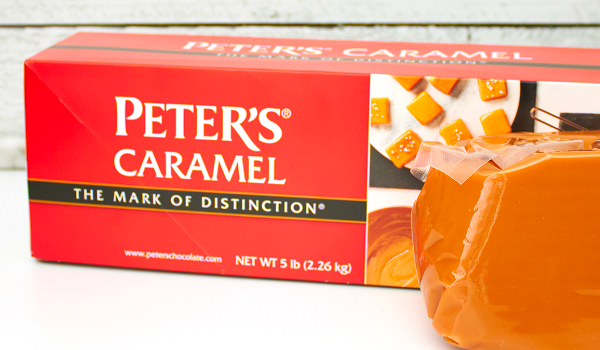 - If you would like to make the consistency of the caramel thinner, add a little heavy cream or sweetened condensed milk with a cube of butter.
- If you wish to make your caramel thicker, add .5 - 1 oz of confectioners' sugar per 1lb of caramel.
- Use cooking spray in the pot, bowl, pan or any other dish you choose to melt the caramel in, to help prevent it from sticking.
To get the most use out of your Peter's Caramel, store it in an airtight container in a cool dry place, just like how you would store your coating wafers. If caramel is stored between 55F-65F with less than 50% relative humidity, it should last for about 13 months.
If you have any questions, please contact our customer service team at 724.274.6314 or info@stovercompany.com.