As a chocolate distributor, we strive to carry a wide range of products that you may need for your business. We carry your favorite brands like Callebaut & Merckens, but we also have two of our very own exclusive product lines. Eleven o'one is our line of carefully curated imported compound & couverture chocolates.

If you're looking for European quality without having to temper, our Eleven o'one Deluxe Compound Coatings are for you! Not only are they easy to work with, our Deluxe Compound Chocolate features a rich flavor. Imagine a divine couverture taste with the ease of working with a candy melt. Sounds like a win, win to us!

Treat makers have been using domestic lines of compound chocolate for years, each having their personal favorite. While domestic products have their place, none of them compare to our imported Eleven o'one Deluxe Compound Coatings.

In a physical comparison: Eleven o'one Deluxe Compound Coating Wafers are much smaller than your typical melting chocolate. This helps cut down on the melting time of the product - talk about productivity!

You'll also notice that our Deluxe Compound Coatings give you a much wider working window than most compound chocolates. Once melted, our coating will maintain its temperature for longer than you may be used to, which means less time spent reheating. This is due to the higher quality ingredients featured in this product (remember, compound chocolates are made with oil instead of cocoa butter).

When melted properly, you will be left with a shiny chocolate covered treat with a superior european taste.

Our Eleven o'one Deluxe Compound Coating is perfect for treats such as chocolate covered strawberries, cake pops, molded chocolates, tasty clusters, hot chocolate bombs, truffles, ganache & so much more.

Intrigued to try the difference between a domestic & European compound coating? Try our Eleven o'one Deluxe Sample Kit. Each kit includes a 1lb bag of White Deluxe, 1lb bag of Milk Deluxe & 1lb bag of Dark Deluxe Compound Coatings. That's 3lbs of coating wafers at a discounted price of just $11.00.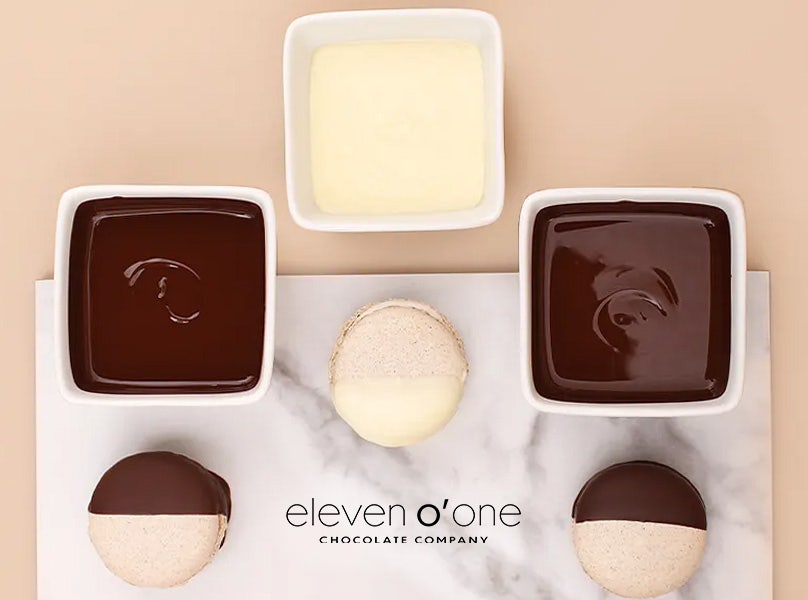 Are you a chocolatier who prefers to use couverture chocolate? No problem! Our Eleven o'one line also features a wide range of couverture chocolates.
We cater to all business sizes, from home bakers to large manufacturers. Looking to order larger quantities? We offer discounts on bulk chocolate!!
Contact us today to set up a business account to take advantage of wholesale chocolate pricing via phone 724.274.6314 or email info@stovercompany.com