Everyone loves to snack on a beautifully colored treat! To achieve these colorful creations, you'll need to stock up on food coloring. Not just any food coloring will do. Water based food coloring could ruin your treats instantly so you'll want to be sure to use oil-based food coloring to create classic & custom treat colors.
Candy colors are available in an array of brands, colors & shades. Add oil based candy colors to your candy melts or buttercream frosting to decorate your treats to match custom color palettes for your customers. School colors? Team colors? Holiday colors? Favorite Colors? No problem!
Let's learn more about candy colors:
Color Theory:
Colors fall into three main categories: Primary (red, yellow, blue), Secondary (orange, green, violet) & Tertiary (basically everything else!) By adding Primary candy colors together in equal parts, you can create the secondary colors. Mix secondary & primary colors together to create tertiary colors. If you're looking to achieve a bold color, mix two complementary colors (opposite color on the color wheel).
When it comes to creating custom colors for your frosting or chocolate, the best bit of advice we can give you is to start small. Mix ingredients & colors using a smaller amount of product so you can figure out the perfect ratio of colors before you color the rest of the bowl. This will help eliminate waste!
Coloring Candy Melts & Chocolate:
When coloring candy melts or couverture chocolates, you must use oil based food coloring. Never use water-based or alcohol-based food coloring to color your chocolate because it will "seize" making your chocolate unusable. Candy colors are formulated to specifically bind with oil based products (like candy, chocolate, & confectionery coatings.)
When trying to achieve a specific color, we recommend starting with a nice pure white ingredient, (like our Sweet Shoppe Ultra White Coating Wafers). The color of your ingredient that you're coloring may alter the color applied, so don't be afraid to add more drops of candy color until you achieve your desired color. For example, if you start with a white chocolate that has a yellow tint & you add blue candy color, you will need to add enough blue to counteract the yellow hues.
If you'd like to create a dark color or black frosting, we recommend starting with a dark colored frosting base (like chocolate) before adding candy color. This allows you to achieve your desired color soon while saving on how much candy color you need to use! Using this method to color saves on how much candy color you need to use to reach the color you want to create!
Our Favorite Candy Color Brands:
At Stover & Company, we carry your favorite brands to give your sweet treats a pop of color!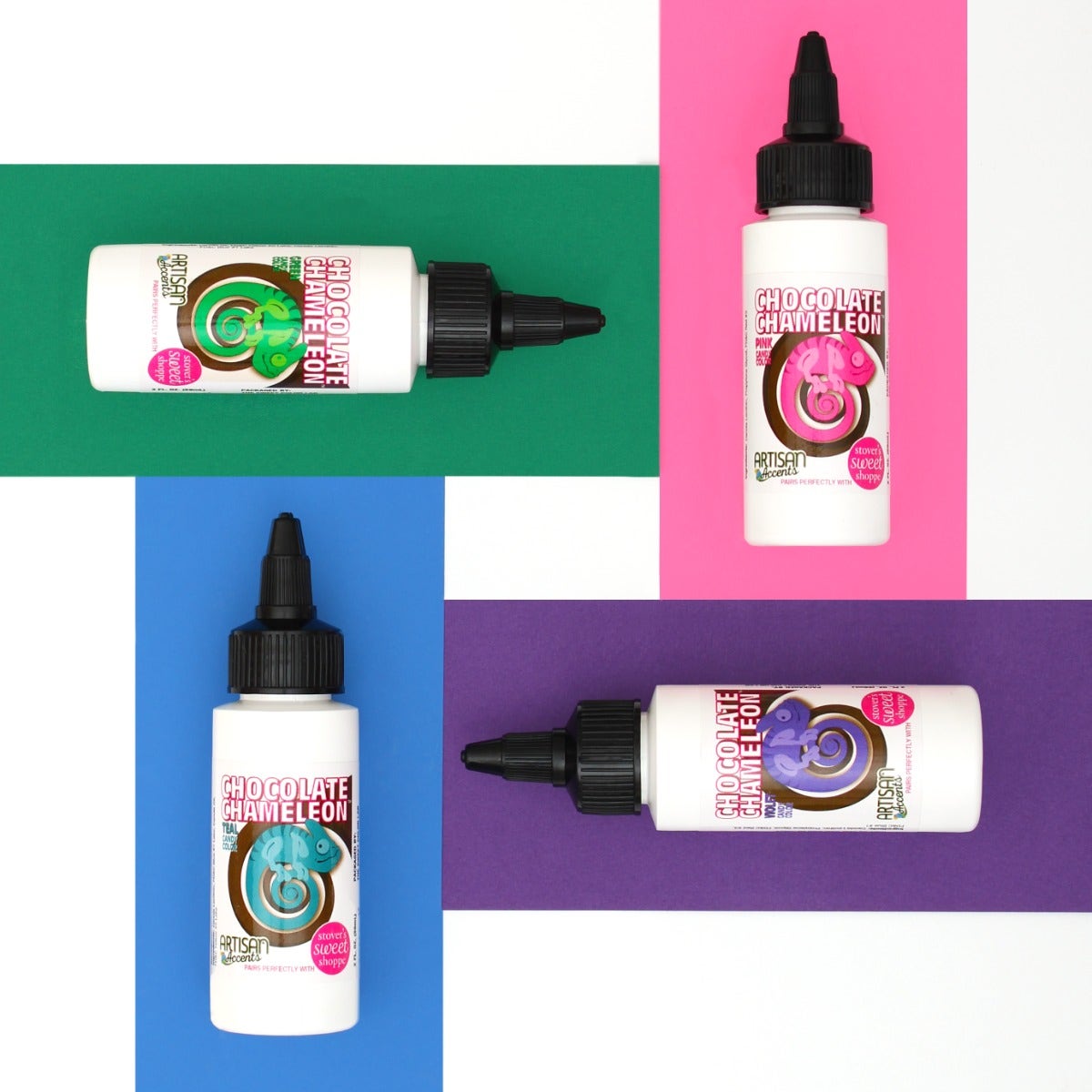 Reach your fullest color potential with Artisan Accents Chocolate Chameleon Candy Colors. Available in 11 colors, these vibrant candy colors are ideal for coloring chocolate & candy coating wafers. Their compact list of colors allow you to mix & match to create any custom color you can imagine. Plus they pair perfectly with our Stover's Sweet Shoppe Ultra White Coating Wafers
Colour Mill: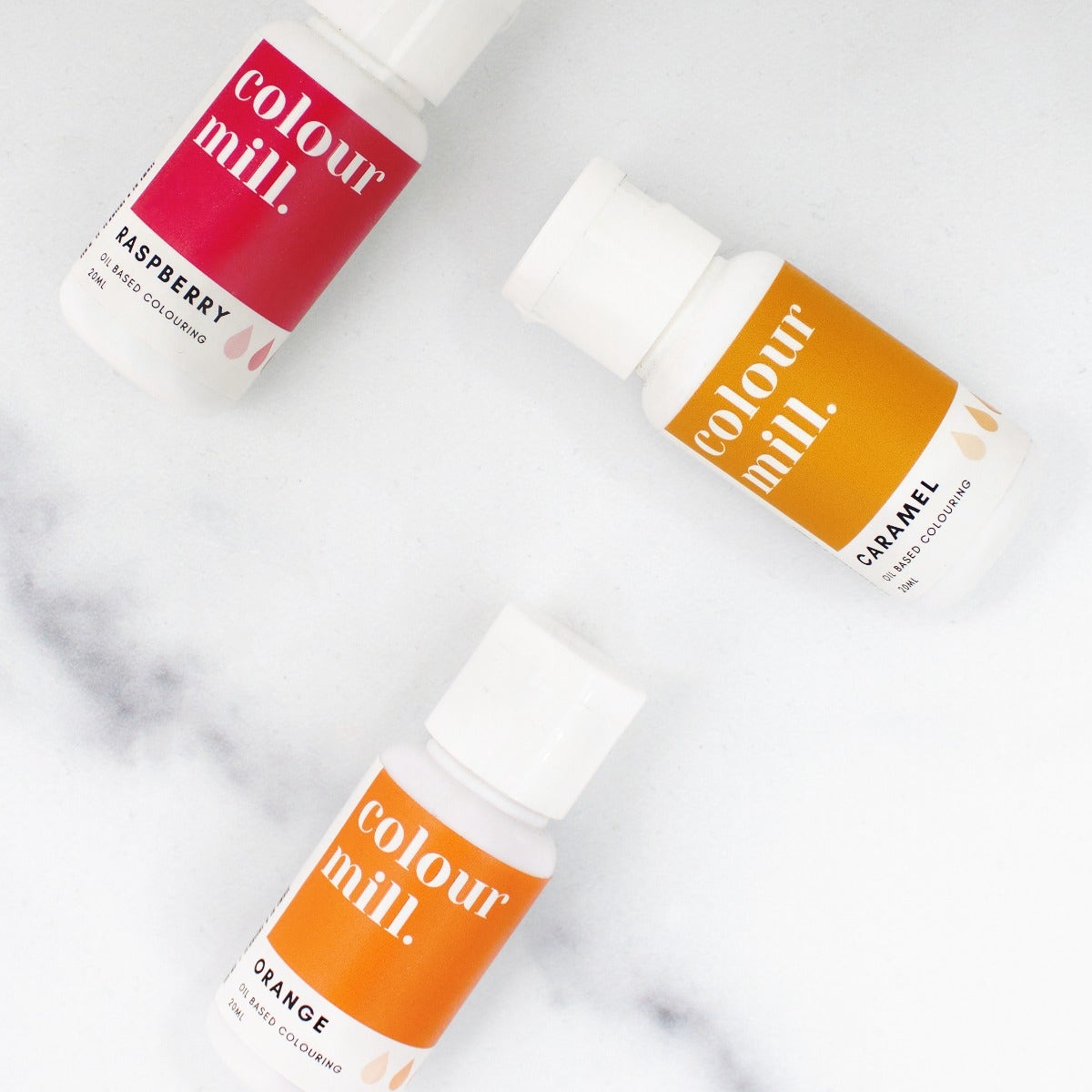 Everyone loves Colour Mill Oil Based Coloring as they are always releasing new colors to stay on trend. Colour Mill offers a wide range of colors from neon to pastel saving you time from having to mix custom colors yourself. These colors are the ideal choice for chocolate, fondant & ganache.
Chefmaster: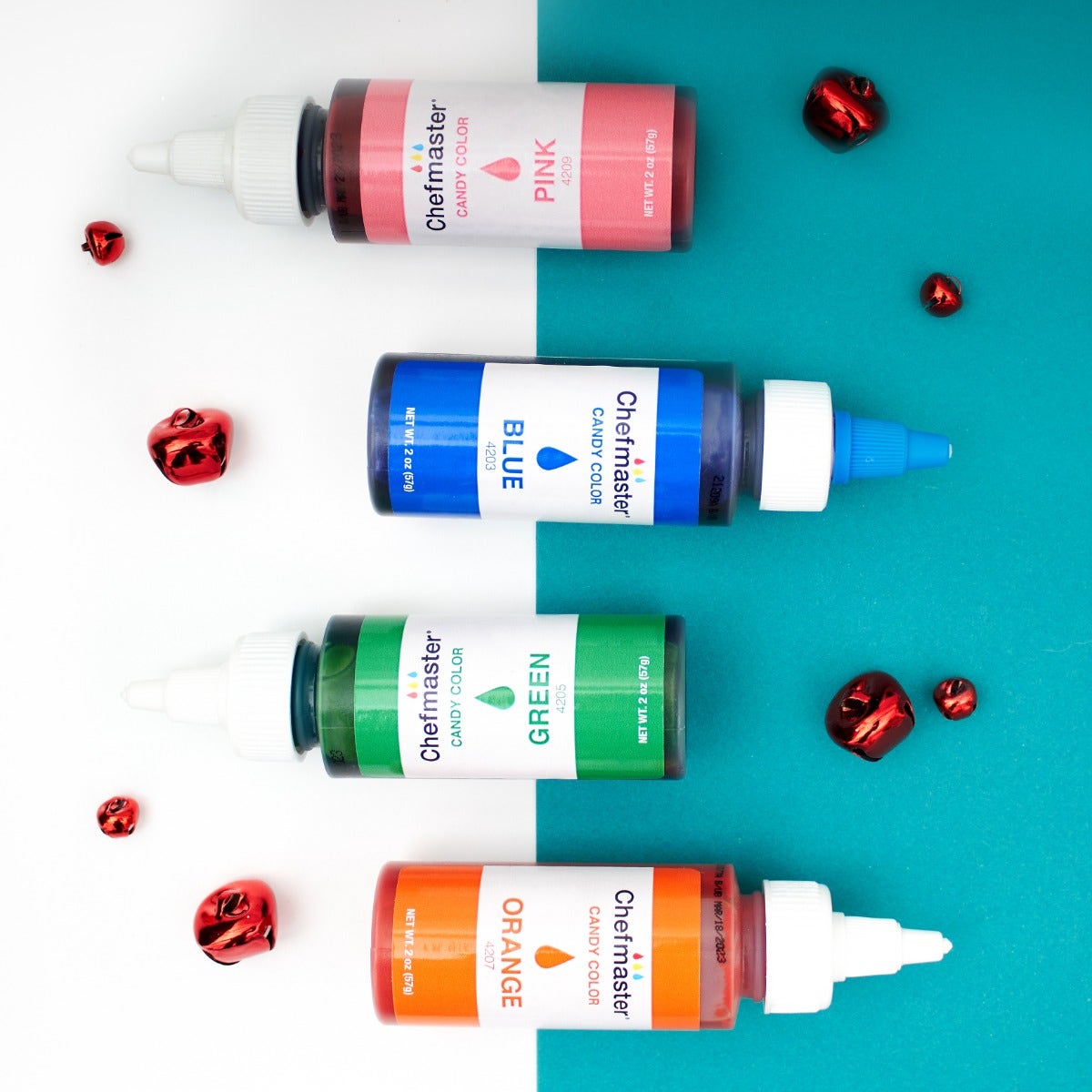 Chefmaster offers BOTH candy color & water based gel color in a variety of colors. Both products are available in vibrant tones & shades, which can be mixed if you want to experiment a little bit! Chefmaster candy coloring blends beautifully into chocolate & candy melts with just a few drops.
Storage:
Oil based food coloring is the perfect consistency when room temperature & since it's shelf stable there's no need to refrigerate. Like most pantry items, candy colors will last the longest if stored in a cool, dry, dark place. We recommend storing your candy colors in a storage bin where the bottles can stand straight up. Make sure the lid is on tight, so your candy colors do not dry out.
If your oil based food coloring bottles clog up, use a toothpick to scrape out any extra coloring that may have dried up. Make sure your lid is on super tight, then store the bottle upside down so the coloring collects near the lid. Be aware that you should NEVER add water to oil based food coloring to thin it out. Adding water will change the formula of the product & will ruin your candy color for future use.
Now that you have a better understanding of oil based candy colors, you're ready to unlock a world of color!
Shop our website today!
For more information, on oil based food coloring, visit our website at stovercompany.com. Questions? You can reach us via email at info@stovercompany.com or phone at 724.274.6314.