Bakery owners are often left wondering how they will purchase the wholesale bakery supplies they need to keep the business running smoothly. Understandably, they would be concerned about this since having the right supplies on hand is so important. However, the situation does not have to be so stressful when you are sure of the types of products you need and where you can buy them from. To help our customers shop for their wholesale baking supplies online more easily, we came up with a few points of advice that you may find helpful.
Know Your Essentials
The first thing you will want to do is take a look at your daily operations and your most popular products. These are the things that will anchor you and help you determine what your most important baking supplies are. Generally, this should largely include ingredients like flour, salt, sugar, etc. which are used to create the base of many products. In addition to this, you may also rely on some pre-measured baking mixes that help you to work more efficiently. You will need to know what all of these essential items are so you can keep a careful watch over your inventory and make sure they never run too low. The same idea also applies to decorating supplies if you know that most of your best-selling products require a certain type of decoration like piping gel over frosting or cookie crumbs mixed into batters and creams.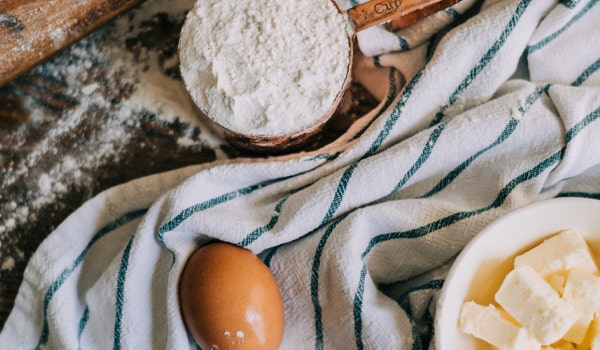 Tools & Utensils
Of course, your baking supplies are not going to be food products exclusively. Some of the things you will need will be tools and different types of materials that will allow you to do your job properly. At this point, unless you are still preparing to open your business for the first time, you should already have the major appliances you will need to bake. Just a few of these include mixers, ovens, and deep fryers, along with the other kitchen supplies like mixing bowls, pots, pans, and utensils. These are essential items that you could not get very far without, so when prepping your kitchen, you want to feel confident with the tools and utensils you have, since they will be getting used on a daily or near-daily basis. You must select the items you need carefully in this category because unlike flour and sugar, which will be used to completion and then replaced with possibly another brand, these are items that you will be relying on in the long term. Even as orders of baking ingredients come and go, you will still be using these same supplies to prepare your products. Aside from these more long-term supplies, however, there are some things that you will need to replace more often as you use them. These include materials like wax paper, paper liners, plastic film, aluminum foil, and piping or pastry bags. While you can get away with one smart purchase of pots and pans, you will need to resupply on these now and then, while you are shopping for your edible wholesale baking supplies online.
Match Your Packaging
While we are on the track of discussing the wholesale bakery supplies you will need besides food products, we should discuss packaging. A bakery needs a proper supply of packaging products much like it needs its basic ingredient since these beautiful baked goods you worked on can only be presented to your customers in their appropriate packaging. We wanted to carry a broad range of wholesale baking supplies online at Stover & Company for people to get as much as possible in one convenient location, so we now offer quite a variety of bakery packaging products like cupcake trays and cake drums. Our advice in this area is to take the time to look at what your offer and how your customers normally shop from your business, so you can be ready with the packaging supplies they need. For example, most of your cupcakes may be sold by the dozen, or a half dozen. You sell cakes in single slices, or exclusively as a whole piece. People come in to buy one or two pastries at a time, or they buy larger party quantities. Consider all of this when purchasing your plastic containers, bags, and paper products.
Our final piece of advice for any bakery owner is to find an excellent, trustworthy wholesale bakery supplier that you can trust to provide you with the things you need regularly. Stover & Company, for example, has a wide range of products from respected brands in the food industry and has developed a strong reputation over the years for being dependable. We want our customers to feel comfortable and confident that they can order their wholesale baking supplies online with us and be happy with the results every time.