Wondering what to include in your bakery's holiday display case? "Donut" worry about it-- we have you covered.
Here at Stover & Company, we know just how important it is for baking professionals to provide their clients with mouther-watering, delectable, and memorable treats at all times of the year, but especially during the holiday season. That is why we pride ourselves on providing our bakery-operating customers with high-quality ingredients and other bakery necessities.
Our top-of-the-line brands can provide you with what you--and your customers--are looking for. One such brand is Dawn Foods, which specializes in providing reliable and delicious mixes, icing, glazes, fillings, bases, and so much more-- all of consistent quality.
"Donut" make the mistake of leaving out one of the crown jewels of every bakery, but especially of holiday treats. Yes, you guessed it: donuts. You can use Dawn Foods donuts, their mixes, icings, glazes, and other products to differentiate your bakery from all others!
But, what donuts should you have available in your holiday display case to add an extra splash of holiday spirit and cater to your clients' pallets and cravings? Let's get to it!
1. Colors and Symbols with Glaze or Icing
One of the most classic types of donuts have to be the glazed kinds. They are always exceptionally satisfying and offer a flavor that is not overwhelming or even messy. They're easily beloved by all, big and small. Strawberry, vanilla, chocolate, and even traditional glazes offer undeniably delicious flavor to any flavored donut.
For the holiday season, you can get creative with your glazed donuts from using simple Christmas-colored glaze to depicting common Christmas characters and symbols with icing! For example, you could have red or green glazed donuts or recreate a Christmas wreath with the help of both glaze and icing! The options are truly endless here.
Remember, while it should look good, it should taste good, too! That's where Dawn Foods donuts come in. You can opt for their ready-to-serve donuts and their delectable donut glaze and cold dip icing that comes in several scrumptious flavors!
2. Glazed with Christmas-Colored or Themed Sprinkles
While simply adding colored glaze or specific symbols to your glaze will really light up your display case, you can also opt to "sprinkle" on some properly colored or themed sprinkles! After all, who doesn't love a classically glazed donut with sprinkles?
You can dip your donuts in a glaze that's been colored red or green, then sprinkle Christmas sprinkles on top! These sprinkles can either be traditional in the appropriate colors (red, green, and white, for example) or they can be themed, such as with Christmas tree sprinkles. Classic and festive: a dynamic duo every display case needs!
3. Sufganiyot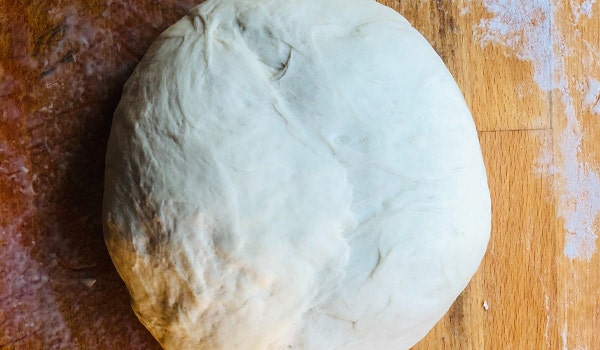 While it can be easy to get swept up in the Christmas spirit, lest not leave anybody "out in the cold" if they don't celebrate the holiday. That is why you should always include Sufganiyot. Sufganiyot ("soof-GAH-NEE-yote") are Jewish traditional desserts. These deep-fried donuts are typically filled with either jelly or custard and topped with powdered sugar.
You also have the option of decorating these donuts to add an extra fun element to them. You can dip them in vanilla or buttercream icing and sprinkle them with blue edible dust or glitter. You could even carefully put Hanukkah-themed symbols on top of them with icing.
For example, you could add a menorah by dipping the donut in vanilla or buttercream icing and using white and silver icing for the traditional Hanukkah symbol. You could also follow a similar process but add a dreidel instead.
Not only will these scrumptious treats cater to those customers who celebrate Hanukkah, but they'll even catch the eye of other customers who may want to try it themselves! They're a sweet treat that can easily be loved by all!
4. Christmas-Themed Jelly
We would be remiss to discuss jelly-filled donuts and leave out the classic jelly-filled ones! These classic donuts can afford you more themed options, as they provide you more of a canvas to create holiday-themed edible art.
With jelly-filled donuts, you won't have the donut hole inhibiting your culinary art. You can now create even more Christmas symbols, characters, and other easily loveable designs!
Some ideas of what you can create on your jelly donuts by using icing include the following:
Rudolph: chocolate icing, red candy nose, candy for eyes, and pretzels for antlers
Santa Claus: white icing for the beard, candies for the eyes and nose, and a red and white icing hat
The Grinch: green icing, red and white icing hat, and black icing for the eyes, nose, and mouth
Snowman: vanilla or buttercream icing, black icing for coal mouth and eyes, and orange icing (or a piece of candy corn) for the nose
You can really have a lot of fun with this option, as the possibilities are endless!
5. Peppermint Chocolate
Now for one of the greatest combinations in sweet treats: chocolate and mint! You can take the unique (and typically Christmasy) flavor of peppermint and add it to your favorite chocolate donut recipe. Dip your chocolate donuts in white chocolate icing and sprinkle crushed peppermint bark on top. How festively delicious does that sound?
6. Rectangular Gift Boxes
If you have the means of creating rectangular donuts, then we highly recommend you do so! Then, with the help of varying colors of icing that cater to your creative process and preferences, design gift boxes and their ribbons! You could even throw on an a-dough-able tag that says, "From: Santa!"
We all know the importance of gifts during the holiday season, so why not gift your customers with present-designed donuts? Not only will they be inclined to try them themselves, but they may want to bring a dozen of them and "present" them to their closest family and friends!
Now that you know what you are adding to your display case this holiday season, be sure to browse Dawn Foods donuts, glazes, icings, donut mixes, and bases, along with many other key ingredients! You want (and deserve) to have the best materials to create these stunning (and yummy!) holiday-themed treats. Happy Holidays to you and your soon-to-be very jolly customers!