Autumn is quickly approaching & it's time to break out your cinnamon, pecans & pumpkin spice to embrace this cozy season. Nothing warms our heart quite like a family fall recipe. Here's one from our family archives that's sure to be a hit at your next family event: Pecan Coffee Cake!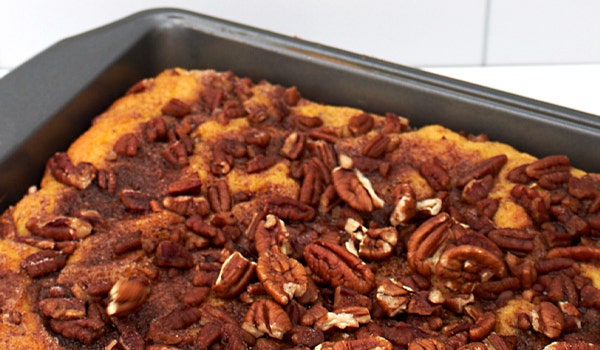 Let's dig in to this easy to follow recipe:
Here's what you'll need...
Ingredients:
15oz. of yellow cake mix
5.1oz of vanilla pudding
1 cup sour cream
¾ cup of hot water
3 beated eggs
¼ cup of vegetable oil
1 teaspoon of pure vanilla extract
½ cup of sugar
2 teaspoons of ground cinnamon
8oz of chopped pecans
Supplies:
One large mixing bowl
One small mixing bowl
13"x9"x2" NON-STICKbaking pan (metal or glass works best!)

Instructions:
1. Preheat your oven to 350 degrees F.
2. Combine your pecans, cinnamon & sugar into a small bowl. Mix these ingredients together & set your pecans aside for later.
3. Next, mix the cake mix by hand in a large bowl to eliminate any clumps.
4. Once the cake mix has been thoroughly mixed, progressively add in all the remaining ingredients one by one (minus your pecans) & mix well until you achieve smooth cake batter consistency.
*Tip - Remember the eggs need to be beat before adding them to the mixture!
5. Pour half of the cake batter into a 13"x9"x2" baking pan (your pan does NOT need to be greased prior to pouring the mixture)
6. Sprinkle one-half of the cinnamon sugared pecans mixture over the first layer of batter.
7. Spread the other half of the batter on top of the first layer of batter & pecans.
* Tip - Use a large spoon dipped in cold water to help spread the batter evenly over the baking pan as the batter can be sticky!
8. Sprinkle the remaining half of the cinnamon sugared pecans on top of the second layer of batter.
9. Bake at 350 degrees for approximately 40 minutes or until the batter is fully cooked through.
* Tip - Oven temperatures can vary, so be sure to check the cake batter with a fork or knife to ensure it's fully cooked through.
10. Take it out of the oven & let it cool before serving.
* Tip - Add a sprinkle of pumpkin spice seasoning or nutmeg when serving to give this pecan coffee cake an extra punch of fall flavor!

Serve this Pecan Coffee Cake warm or cold - PLUS there's no need to refrigerate the coffee cake. Simply store it covered to keep it fresh at room temperature.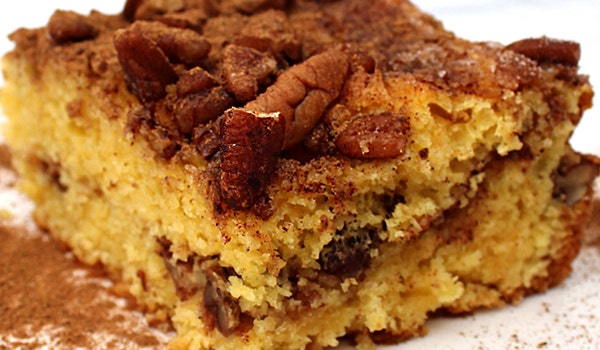 So put on your flannels, fall boots & beanies & cozy up with a slice of this delicious pecan coffee cake paired with a PSL.
Looking for more tips, how to's & general baking information? Check out our full blog here.