Here at Stover & Company, we pay careful attention to our customers' needs. Whether that means keeping tabs on our best selling products, listening to what our customers want, or considering their impressions of our stock selections, we're on the ball. This is one of the baking distributors that listens to their customers.
When you talk, we listen, and we've compiled this list of some of our best selling categories and products along with the selling points of each of them, individually. Here you can learn a little more about why some of these are customer favorites, and if you have any questions, you can get in touch with our customer service team!
Alpine Soy Flex Icing Shortening
Using a high-quality shortening that is consistent in quality and offers you some great features is the key to making smoother, creamier icings and frostings as well as lighter, fluffier cakes and cookies.
Alpine Soy Flex Icing Shortening is an icing shortening that is made to offer zero grams of trans fat per serving while still allowing you to create creamy, silky icing and frostings that don't leave your mouth feeling like it's been coated with wax.
-It's better for you, as it contains zero grams of trans fats per serving.
-As a high ratio shortening, it contains emulsifiers that enable it to absorb more sugar and liquids than another shortening.
-Because of this, it fluffs up amazingly well, and it also mixes with the liquids and sugars more effortlessly.
-As stated, there's no greasy aftertaste. Some shortenings will leave your mouth feeling waxy or greasy, but not Alpine Soy Flex Icing Shortening!
-Because it is a shortening and contains no butter, it has no yellow or off-white coloring. This will enable you to create brilliant white icings and frostings.
-It will also stand up better to a wide range of temperatures without separating and remaining highly workable.
-It's also made with soybeans grown right here in the United States!
These are some of the things that our customers love about Alpine Soy Flex Icing Shortening; If you have your own, reach out to us and we'll be sure to include them next time!
Sweetex Golden Flex Cake and Icing Shortening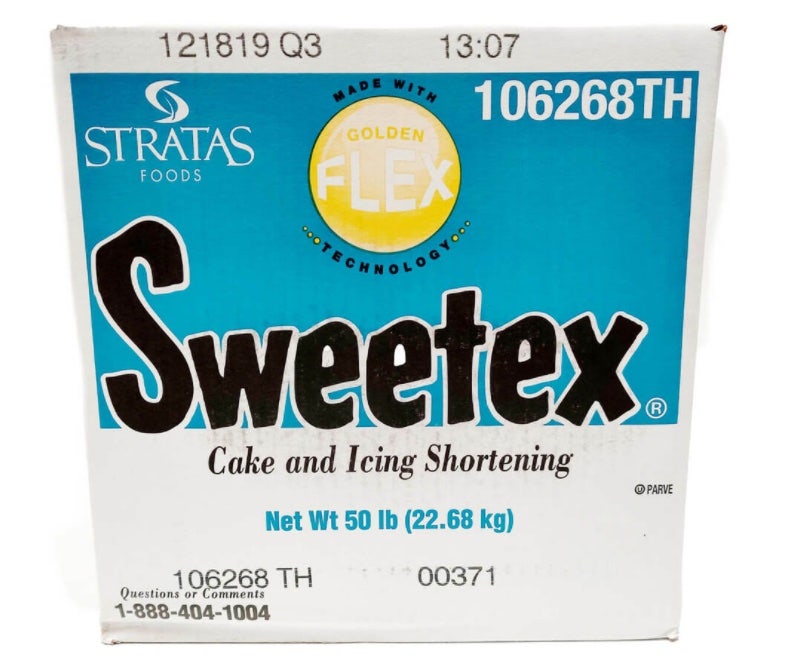 Sweetex Golden Flex Cake and Icing Shortening is another high-ratio shortening that comes with a lot of the benefits described above, and there are plenty of other reasons that it's one of our top picks.
This one, however, is a non-PHO shortening, also with zero grams trans fats, that contains no moisture whatsoever. As a result, with it, you can create amazingly fluffy, soft cakes, cookies, and other baked goods.
-It contains no moisture, so it will not create little pockets of steam as it bakes. As a result, you can bake softer, silkier baked goods with it.
-It also has zero grams of trans fat per serving.
-It contains no butter, so it has no color at all. It is a brilliant, pure, bright white, perfect for creating white icings, frostings, and cakes.
-This shortening also offers superior flavor and texture and will not leave your mouth feeling greasy or waxy.
-It has a higher yield volume and will remain workable and spreadable over a larger range of temperatures without separating.
-It's perfect not only for creating your own icings but for cakes and cookies as well.
Do you want to add your own experience with Sweetex Golden Flex Cake and Icing Shortening? Get in touch with us and let us know what your experience has been!
Satin Ice Fondant
In general, fondant is a wonderful tool for bakers to use as a blank canvas for decorating. It's beautiful, functional, and delicious. It protects the cake underneath from losing moisture or getting stale and it gives cake decorators a smooth surface on which to create their visionary masterpiece.
Satin Ice Fondant, like the white fondant in the link above, is one of the most versatile and desirable options in the industry and is a consistent crowd favorite.
-Satin Ice Fondants are available in a wide range of colors, so you can fit them to the occasion or the time of year.
-Satin Ice Fondant is gluten-free, dairy-free, nut-free, trans-fat free, and vegan. They're even Kosher!
-Protects cakes and baked goods from becoming stale or losing moisture.
-Some cakes will not require refrigeration after fondant is applied to them.
-Satin Ice Fondant exhibits superior workability and can be spread very thin without crumbling or cracking.
-It's also customer approved for its delectable flavor!
Satin Ice Fondant gives you the blank slate you need to create your masterpiece and is easy to use. Check out our product page above or get in touch with us to learn more!
Sanding Sugar
We're not going to include a specific brand with sanding sugar, because there are many great varieties and all of them are useful in their own right. Like sprinkles, sanding sugar is useful for its decorative value and is not a base ingredient.
Typically, sanding sugar is spread over the top of baked goods after they are baked or right before they go in the oven, but the surprising part is that it appeals to more than one sense!
-Sanding sugar can be used to add a little bit of additional sweetness to the top of baked goods like cookies and muffins.
-Sanding sugar also adds a little bit of pleasant texture to your baked goods. It adds a crispness that quickly melts away.
-Because it comes in so many different colors, sanding sugar is ideal for adding some seasonal flair to your cookies, cakes, muffins, and more.
-It also adds some flash and glitter, as the little sugar crystals will catch and reflect the light like little gems.
Check out our page on sanding sugar to learn more about it, and as always, if you have your own experience or tricks that you'd like to share, give us a shout!
Fleishmann's Instant Yeast
Yeast is one of the oldest cultivated agricultural products in the world, and even though you might not think about it on a daily basis, yeast is a living organism. It interacts with the sugars in dough, releasing gas as a byproduct that enables the dough to rise.
Instant yeast, unlike fresh yeast, can be kept for much longer than fresh yeast even though it is still viable and can be used as a leavener. Fleischmann's Instant Yeast is made of a special strain that is easier to use and can be kept viable for longer.
- Free-flowing and dry format, easier to measure and add to doughs and mixes.
-It does not need to be hydrated or 'proofed' before adding it to doughs.
-Can be kept viable for up to 2 years as long as the packages remain unopened; some keep them chilled or frozen. However, Fleischmann's Instant Yeast does not require refrigeration.
-Provides consistent performance due to Fleischmann's proven processes.
Fleischmann's Instant Yeast is one of our most popular instant yeast brands, and useful in several different baking applications wherein a leavener is required. It also adds a unique and distinctive flavor and is prized for its qualities, some of which are detailed above.
Callebaut Dark Chocolate Bars
Callebaut is one of the most enduring names in chocolate and produces some of the finest couverture chocolate in the world - if not the finest. It is beloved not only for its texture and flavor but for the consistency of these features.
The Callebaut Dark Chocolate Bars featured in this link make the most of Callebaut's N811 Recipe, which is rich and remarkably smooth with somewhat fruity notes. It is sweet and bitter, with a powerful taste of cocoa.
-This particular recipe contains 52.7% Cocoa ingredients and is 37% fat. Of these, it is 34.1% cocoa butter.
-This high-quality couverture chocolate is specially formulated to be easier to melt.
-It's also a proprietary blend that delays blooming, in an attempt to make this chocolate easier to temper.
-Ideal for a wide range of applications, including but not limited to moulding, dipping, enrobing, baking, and much more.
-For couverture chocolate, this blend does require tempering to prevent blooming and careful handling to prevent seizing.
Learn more about the unique features of couverture chocolate in our recent blog, which goes into detail about the need to temper fine couverture chocolates in order to prevent blooming and get that perfect texture and consistency.
Merckens Milk Chocolate Wafers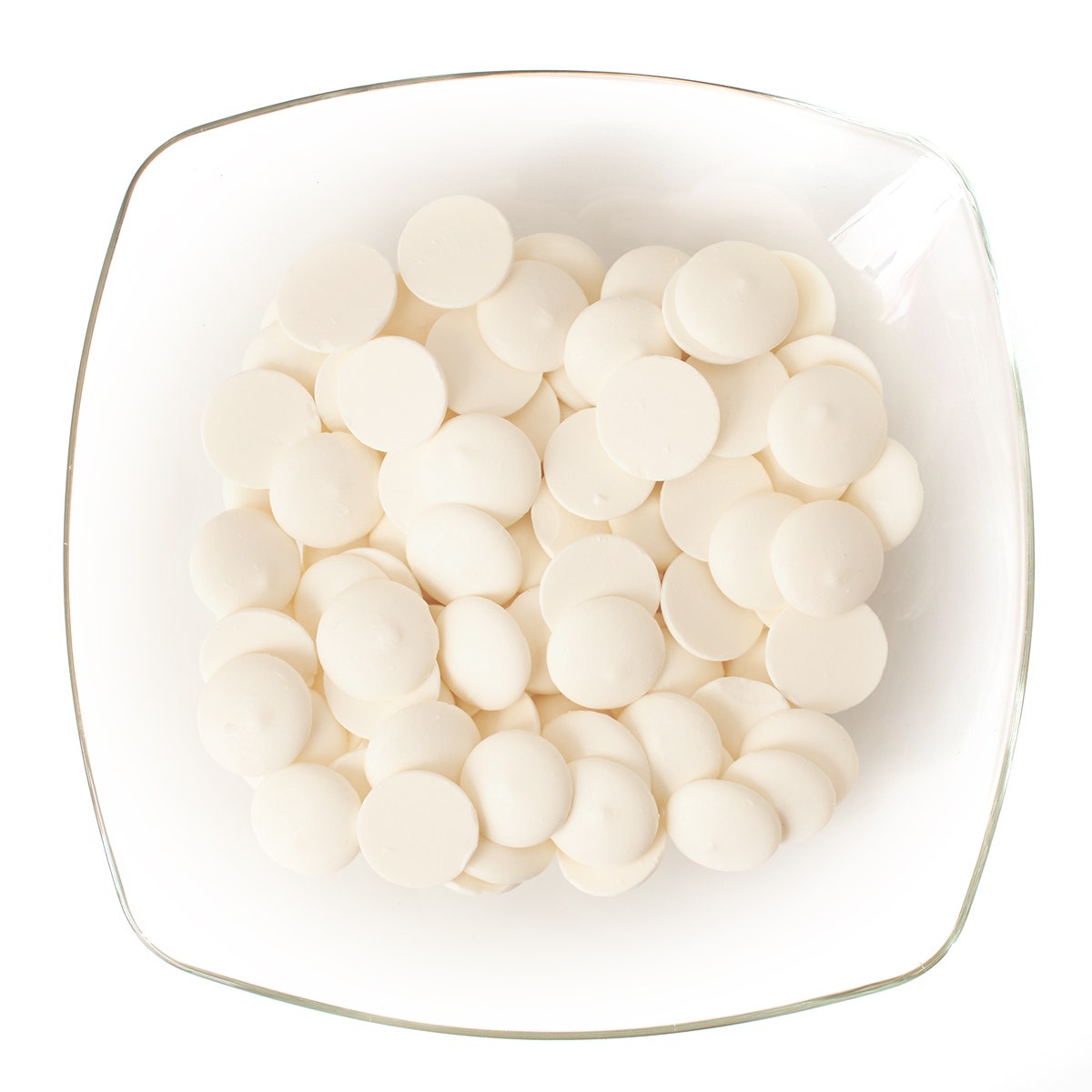 Merckens chocolates, which produces some fine milk, white and dark chocolates, are perhaps best known for their Milk Chocolate Wafers, which, unlike the Couverture Chocolate mentioned above, do not require the same degree of handling in order to produce fine chocolate goods.
-Merckens Milk Chocolate Wafers are made with vegetable oil and cocoa powder in place of cocoa butter.
-This makes their Milk Chocolate Wafers ideal for melting, molding, and melting again is necessary.
-Compound chocolate wafers like these require no tempering; you can melt them and mold them without worrying about bloom.
-Care should still be taken to prevent them from burning.
-Merckens also produces wafers in a range of other colors that are seasonally appropriate and are much easier for confectioners to use, instead of adding their own coloring.
-Merckens Wafers are beloved for their delicious flavor and smooth consistency.
Because of these features and a range of others, Merckens Chocolate Wafers are beloved by confectioners for their quality and ease of use. Check the same blog above in the section on Callebaut chocolate to learn a little more about compound chocolates like these and how they can be used.
Pillsbury Bakers Plus Cake Mix
A skilled baker can produce a quality cake, donut, cookie, brownie, muffin, or another sweet treat without the need for a ready made mix, and we sell all of the bakery products that are necessary to do so. However, Pillsbury Bakers Plus Mixes have been crowd favorites for a long time, as they produce a fine finished product that comes with a suite of benefits.
-These cake mixes will not crack or crumble and which enables them to stand up to excessive handling.
-Because their cakes are so durable, they can be extensively decorated without worrying.
-Pillsbury Bakers Plus Mixes are ideal for bakers who really get involved decorating their cakes and other baked goods.
-They're also easy to mix up into perfect cakes, and you can alter the amounts of water and oil to create a cake that really suits your tastes.
These are some of the reasons that Pillsbury Bakers Plus Mixes have been crowd favorites for so long. Customers also love the fact that they save a lot of time while making cakes, which is a bonus when you're more concerned with the decorated product than making a cake from scratch!
H&H Redi Pak Fillings
Henry & Henry has been producing fillings, glazes, icings, and toppings for well over a hundred years now, and H&H is one of the most recognizable names in bakery food service. One of their more popular lines of products is their H&H Redi-Pak line of fillings.
-H&H Redi Paks are convenient and easy to use and will last for a long time.
-They retain their freshness and shine as well as their color and flavor.
-They are also available in a huge collection of flavors, from fruit fillings to bavarian creme; see the link above for some of their options.
-They're practical and effective for cakes, pies, danishes, pastries, donuts, and more; anywhere else you could use a ready-made filling!
These are some of the reasons that H&H is one of the most enduring names in the bakery industry, which is why so many baking distributors carry them. As always, to learn more, get in touch with us!
These are some of the best selling products on our site, but it doesn't even scratch the surface of what we can offer. You've probably taken note of the conspicuous absence of packaging, dairy products, flours, starches, oils, and much more.
The point is, Stover & Company is one of the baking distributors that can offer you these but many more. If you want to learn more about them or you need some more insight into the selling points of one ingredient over another, get in touch with us at 724-274-6314. We've seen a little bit of everything and we'd love to pass that knowledge and experience on to you.