If you're looking to create a simple, yet sensational fall treat using our NEW Salted Caramel Flakes, this Chocolate & Caramel Dipped Apples Recipe might be just what you're looking for!

Imagine crisp & sweet apples paired with sweetness from Peter's Caramel & Eleven o'one European Deluxe Milk Compound Coating, topped with salty-sweet caramel flakes, making an irresistible combination!

Ok, enough talk, let's make these delicious chocolate & caramel apples!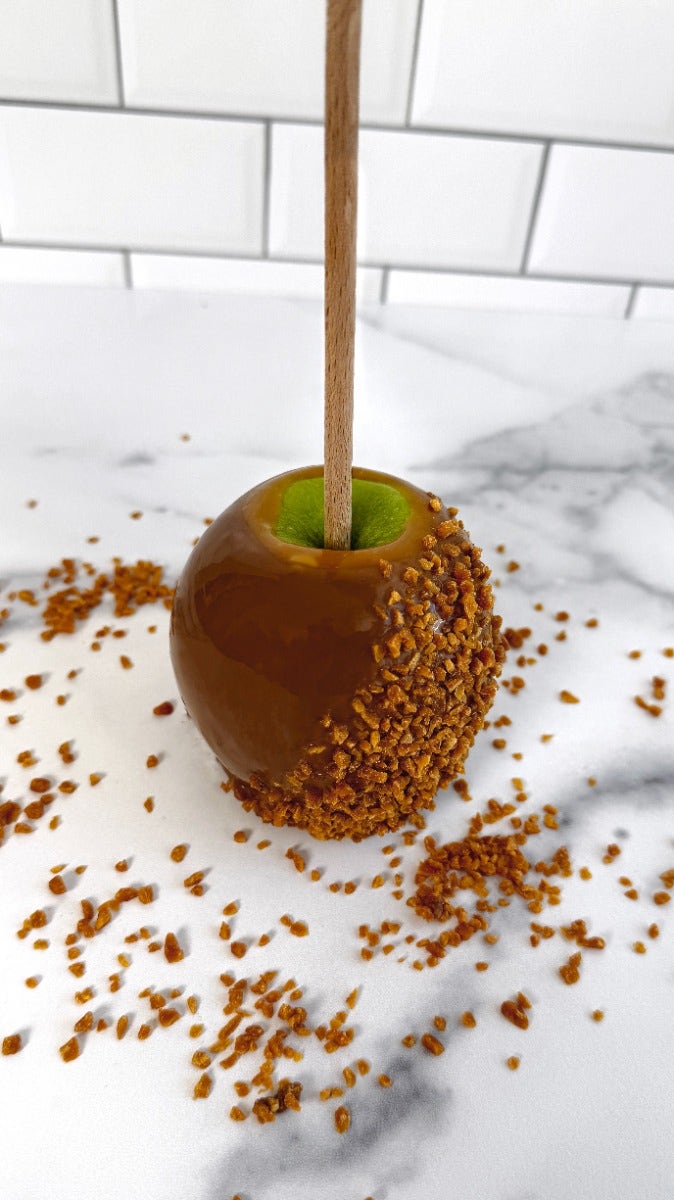 Tools:
Large Pot
Double boiler or microwave safe bowl
Confectionary sticks (caramel apple sticks, popsicle sticks)
Wax paper
Silicone Spatulas
Ingredients:
Instructions:
Prepare your Workspace:
Line a baking sheet with wax paper to prevent the apples from sticking to the baking sheet & make cleanup a breeze.

Prepare the Apples:
Bring a large pot of water to a boil. In the meantime, remove the stems from the apples.
Carefully dip apples into the boiling water with a slotted spoon for 30 seconds. This will allow the wax on the apples to melt away.
Dry apples with a paper towel & let them cool for at least 30 minutes. Insert a stick into each apple & set in the refrigerator while you prepare the other ingredients.

Melt the Peter's Caramel Loaf:
Check out this previous blog post on different ways to melt Peter's Caramel Loaf.
We recommend this double boiler method:
Prepare a heavy-bottomed saucepan or a double boiler. Ensure the boiling water does not touch the pan or bowl that will hold your caramel as no water should come in contact with your caramel.
Slice the desired amount of Peter's Caramel Loaf & put it in the bowl going over the double boiler.
Melt the Peter's Caramel on low to medium heat, stirring constantly.
PRO TIP: use a rubber spatula instead of a whisk to minimize air bubbles.
The temperature of your caramel should remain between 160ºF- 180ºF while melting.
Once you've reached the desired consistency, remove your Peter's Caramel from the heat to avoid overcooking or burning.

Melt your Milk Chocolate
As we mentioned, we recommend our Eleven o'one European Deluxe line for this recipe: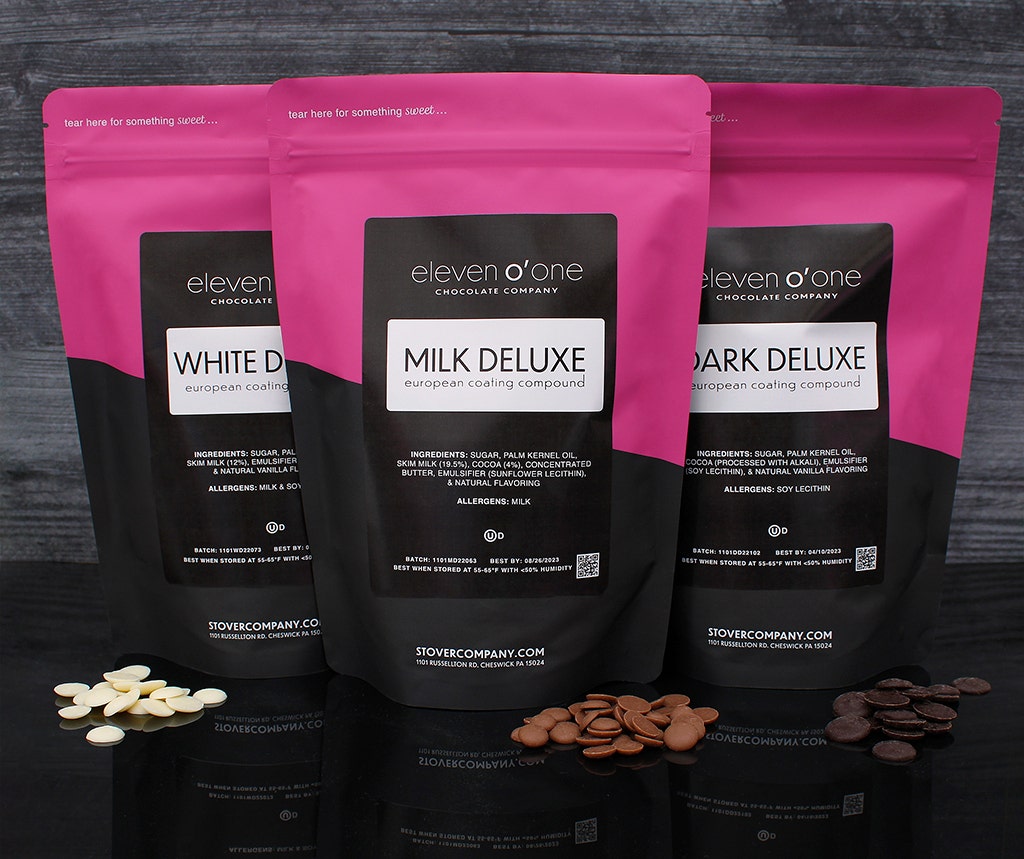 1. Fill a microwave safe bowl with Eleven o'one Milk Deluxe & melt for 30 seconds.
2. Take out the container & gently shake the small wafers to disperse any hot spots.
3. Return to microwave & heat for another 30 seconds. Remove & stir.
4. Repeat this process one or two times more, reducing the time by 10 seconds with each intervol.
5. When your wafers are about 75% melted, stop the heating process & stir with a silicone spatula. The warm melted wafers will aid in melting the rest of the coating wafers in the dish.
PRO TIP: Ensure your compound coatings do not exceed 90ºF.
Dip the Apples:
1. Use the confectionary stick to firmly hold your apple, then gently dip it into the melted caramel, twisting the apple until it is fully covered.
2. Hold the apple over the pot to allow excess caramel to drip off then wipe the bottom of the apple on the edge of the bowl to create a clean bottom for your treat.
3. Set your caramel dipped apple on the wax paper lined baking sheet for a few minutes to allow it to set.
4. Once the caramel has set & cooled on the apples, proceed to dip in your melted chocolate to create a rich top layer.
5. Before your chocolate layer fully sets, freely sprinkle your Salted Caramel Flakes on top for the perfect finish. The Flakes will adhere beautifully, adding a slight crunch & delightful flavor.
PRO TIPS:
Ensure your apples are fully dry before dipping in Peter's Caramel Loaf
Ensure your Eleven o'one Milk European Coatings, or compound coatings of your choice are not too hot. Your melted chocolate should not be above 90ºF.
Ensure your caramel coated apples have set well before dipping in chocolate.
If your compound coating layer has set before you are able to sprinkle the Caramel Flakes on, you can carefully use a culinary blow torch or heat gun to remet the chocolate.
Your dipped apples will last for 1 week if properly stored & refrigerated.
So grab your caramel & chocolate & make a detour for the orchid because these apples are sure to be a hit at your next Fall gathering! Happy Harvest!