Still holding onto every last bit of summer? Then we have the perfect treat for you! This recipe for chocolate covered pineapple pops makes for a simple & sweet way to say farewell to summer. If you've never tried chocolate & pineapple together, boy are your tastebuds in for a treat!

Let's dip into this Chocolate Covered Pineapple Pops recipe!

Prep Time: 10 minutes

Supplies:
6" inch lollipop sticks
1 Piping bag
2 Microwave safe bowl
1 Baking Sheet
1 Piece of Parchment or Wax Paper
Ingredients:
1 large fresh pineapple
1 cup of Eleven o'one White Deluxe Chocolate Compound Coatings
2 cups of Eleven o'one Milk or Dark Deluxe Chocolate Compound Coatings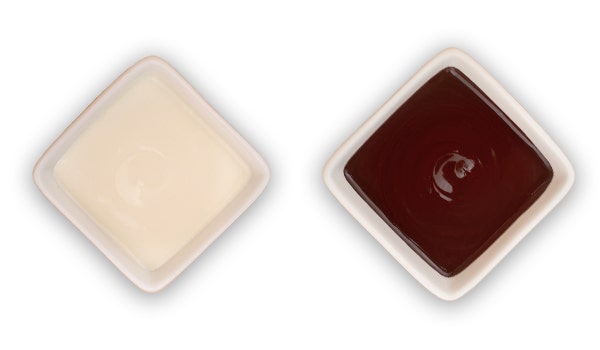 Instructions:
1. Cut off the top & bottom of a fresh pineapple then trim off the rind.
2. Cut the pineapple in half lengthwise. Remove the pineapple core then cut into wedge or spear shaped pieces.
PRO TIP: Use a pineapple cutter to make steps 1 & 2 a breeze!
3. Once your pineapple is cut into your desired shapes, lightly dab them with a paper towel to soak up any excess juice on the fruit.
PRO TIP: If you have the extra time, we recommend freezing your fresh pineapple pieces prior to dipping.
4. Line a baking sheet with parchment or wax paper.
5. Melt your chocolate coating wafers using the melting method of your choice. (See our post on how to use sweet shoppe coating wafers)
6. Dip one end of a lollipop stick into the melted chocolate then insert the end with the chocolate into a pineapple piece. This is going to keep your pineapple slices from sliding off the lollipop stick. Repeat this step until you've run out of pineapple.
7. Once the chocolate has dried enough that the pineapple is firmly secured to each lollipop stick you're ready to move on. You may need to reheat your chocolate to the recommended dipping temperature.
8. Dip each piece of pineapple into your melted chocolate until you've reached your desired coating. Then place each Chocolate Covered Pineapple Pop onto the lined baking sheet.
PRO TIP: If you're looking for an even dip on both sides, use a piece of styrofoam to hold your lollipop sticks so your Chocolate Covered Pineapple Pops can dry while standing.
9. When the chocolate is dry, you're ready to decorate with your white chocolate coating wafers.
10. Using your preferred method, melt down the white chocolate coating wafers to a drizzling consistency then pour the chocolate into a piping bag.
11. Cut the tip off of the piping bag then drizzle the white chocolate across your Chocolate Covered Pineapple Pops!
PRO TIP: Once drizzled you can add sprinkles, edible glitter, mini m&ms, peanuts, coconut or whatever your heart desires to give these treats your own special touch.
Allow your Chocolate Covered Pineapple Pops to fully harden, then serve.
BONUS: Store the finished treats in the freezer for an extra refreshing touch!

You're sure to LOVE this sweet & juicy combination, perfect for your end of summer picnics, back to school bashes, birthday parties or just for an afternoon indulgence.

For more delicious recipes like these Chocolate Covered Pineapple Pops, head back to our blog!