Calling all candy enthusiasts, chocolate lovers, & confectionery professionals! Get ready for an event that will satisfy your sweet tooth & ignite your passion for all things delicious. The Philadelphia National Candy, Gift & Gourmet Show is just around the corner, offering an unparalleled opportunity to immerse yourself in the world of candy-making, gourmet specialties & snacks, & of course networking with industry leaders. This is an absolute must for anyone with a passion for sweet treats & a desire to stay ahead in the candy industry, PLUS it's your chance to meet US in person!
Discover the Show:
The Philadelphia National Candy, Gift & Gourmet Show is a premier event that brings together candy shop owners, confectioners, chocolatiers, & industry professionals from all over the country. Explore the latest offerings in every c&y category, from delectable chocolates to gourmet specialties & everything in between.
WHO: YOU'RE INVITED!
WHAT: Philadelphia Candy, Gift & Gourmet Show
WHERE: Atlantic City Convention Center, Atlantic City, NJ.
WHEN: September 10-12, 2023
Click HERE to register.
Networking Opportunities:
One of the standout features of the Philadelphia National Candy, Gift & Gourmet Show is the invaluable networking opportunities it offers. As an attendee, you'll have the chance to connect with like-minded professionals, forge new relationships, & exchange ideas with some of the most accomplished figures in the candy industry. Whether you're seeking advice on business strategies, sourcing new suppliers, or simply want to share your own expertise, this event creates the perfect atmosphere for collaboration & growth.

Seminars & Workshops:
To further enrich your candy-making knowledge & skills, this show offers an impressive lineup of seminars & workshops led by top confectionery professionals. These sessions cover a wide range of topics, including the latest techniques, market insights, packaging innovations, & emerging trends. By attending these educational sessions, you'll gain invaluable insights that can help you elevate your candy business to new heights.

Meet the Stover Team:
Stover & Company will have a booth at this year's Philadelphia National Candy, Gift & Gourmet Show for the very first time! This is your chance to meet us in person, chat about your favorite products, & lock in special show pricing at booth #517.

As a renowned company in the bakery supply industry & rapidly growing in the confectionery industry, we pride ourselves on providing a vast selection of high-quality products & ingredients. We will be showcasing our exclusive line of domestic & imported compound coatings & couverture chocolate: Sweet Shoppe & Eleven o'one. Prepare to be tantalized by the exceptional taste & quality of our offerings.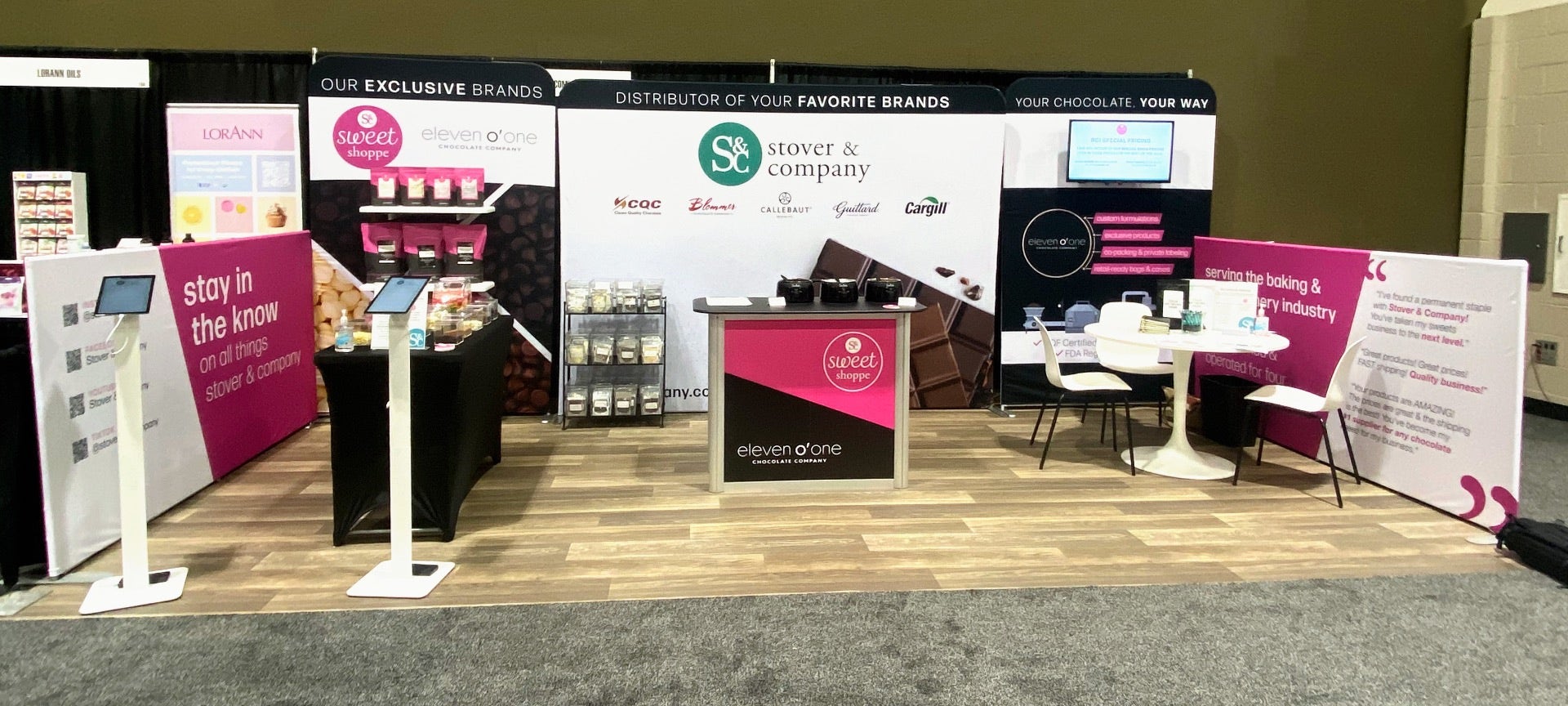 To make your visit even sweeter, we will be offering FREE SAMPLES of our exclusive brands at booth #517. Indulge in a diverse range of flavors, textures, & innovations that will delight your taste buds & leave you craving for more. It's a fantastic opportunity to experience firsthand the superior quality & delectable flavors that our products have to offer.
We can't wait to see you there!