Let's face it, caramel apple lollipops are the lackluster version of everyone's favorite fall treat. The real MVP of the autumn treat spread are those big, gooey, caramel covered apples on a stick.

You don't need to go to the pumpkin patch to get your fix, with this easy to follow recipe, you can make your favorite caramel apples right at home! To get started on this classic fall treat, you will need some Peter's Caramel Loaf & a batch of fresh apples. But we aren't stopping there. We did promise gourmet apples after all. That's why we'll be adding an extra layer of chocolate flavor to sweeten the deal.

For this recipe, we'll be dipping the caramel coated apples in an extra layer of Merckens chocolate melts & adding any of your favorite edible decorations. We will be using a mix of Merckens Chocolate melts in dark & cocoa lite but you can substitute any of your favorite chocolate melts. The most important ingredient is the classic rich & creamy flavor of Peter's Caramel.

Caramel Apples are not only tasty, but they make for a fun activity for the whole family. Family members from 2-200 can participate & even customize their own apples. The best part is, everyone earns a tasty reward at the end!

So grab your apples, caramel & favorite chocolate melts & let's get dipping!

Supplies:
6 in Lollipop Sticks
Baking Sheet
Wax Paper
Cooking Spray
Medium Saucepan
1 Microwave Safe Bowl
Ingredients:
6-12 Fresh Apples (Granny Smith, Fuji, Honeycrisp… pick your favorite!)
11 oz of Peter's Caramel Loaf
12 oz of Merckens Chocolate Melts in Cocoa Lite or Dark (your choice!)
2 tbsp of water
Your favorite edible decorations (sprinkles, nonpareils & moonstones, oh my!)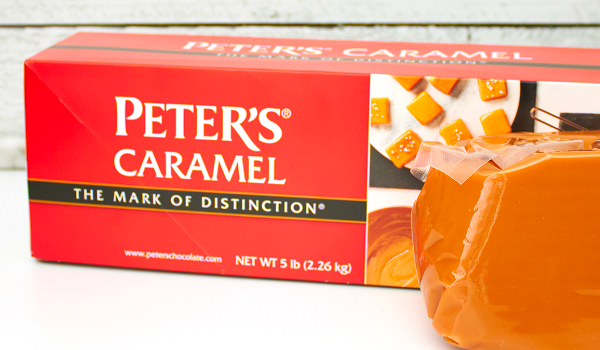 Instructions:
Wash & dry apples, removing stems if prefered.
*PRO-TIP: To ensure your tasty toppings stick to your perfectly dipped apples, you'll want to remove the thin layer of wax from the apple skin. If needed, lightly scrub the apples with a soft bristled brush under very hot water.
Line a baking sheet with wax paper.
Lightly coat the wax paper with cooking spray.
Place apples on the baking sheet & stick the lollipop sticks into the stem end of each apple.
Place a medium saucepan over low heat.
Add your Peter's Caramel followed by 2 tbsp of water, stirring constantly until the caramel is fully melted. (Check out Best Practices for Melting Peter's Caramel for more info on how to melt it!)
Remove from heat & individually dip your apples into the caramel, allowing the Peter's Caramel to run off a little, prior to placing the apple back on the baking sheet.
Once all of your apples have been dipped in caramel, place the baking sheet in the refrigerator to cool for at least one hour.
*PRO-TIP: Once the caramel is completely set on the apple, remove the flat end of the caramel using kitchen shears prior to dipping them in the chocolate to help keep the appearance of a round apple shape.
Once your caramel has set, it's time to melt your Merckens chocolate melts using your preferred chocolate melting method.
(Check out our blog post on How to Work With Merckens Chocolate Melts.)
Dip each caramel covered apple in the melted chocolate until the apple is evenly coated.
Place the apples back on the baking sheet & while the chocolate is still hot add any edible decorations you'd like to apply.
Serve right away if you can't wait to indulge or refrigerate for about 45-60 minutes until the chocolate coating sets then serve..
How Long Do Caramel Apples Last?
Whole Coated Apples that are well wrapped can be refrigerated for up to one week but we recommend enjoying this treat within 3-5 days of making them. Once you cut into an apple, they should be consumed right away as apples naturally turn brown when exposed to air.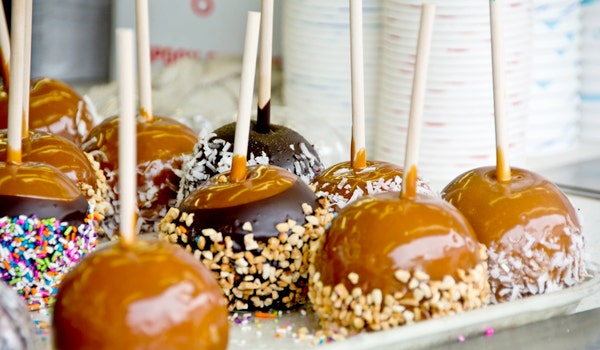 Once you make these gourmet chocolate covered caramel apples, you'll want to make them again & again!
Find more recipes like this one, on our blog!
Need quality ingredients? Head to our website to shop Peter's Caramel & Merckens Chocolate Melts.