When it comes to baking on a professional level or for your own pleasure, there are a few products and ingredients that end up becoming a favorite. Whether this is due to the final taste that it gives your baked goods or its ability to work easily with, there's always something out there that can improve your baking experience. For some, this ingredient for them is good quality chocolate.
Chocolate is considered a favorite for many, both in the baking world and out, but when you move beyond its sweet and delicious flavor, you can start to take other factors into account such as brand and where it is made.
This is one of the reasons why we at Stover & Company, sell a variety of brands for our customers to choose from, especially if there is one they happen to prefer the most. We're here to supply our customers with ample baking ingredients, supplies, packaging, and more to choose from that are high quality, yet still affordable.
A Bit About Us
Here at Stover & Company, we make shopping for your baking needs, quick, easy, and convenient. We are a family-owned and operated bakery and confectionery supply distributor that sells things such as baking ingredients, chocolates, decorating supplies, packaging, frozen baked goods, and much more.
As we are now integrated into the digital world with our website, we want to make shopping at our online store easy so that our customers from all over can get in contact with us. When you visit our website, you'll find that you narrow down your search based on category or brand.
Based on customer feedback as well as our expertise in this industry, we've made sure to curate brands and products that we know our customers love. Even though we are a supply distributor, don't let that stop you from shopping through our items if baking isn't your professional forte.
We try to make sure our products are easy to use as we know the smallest details can make all the difference.
If you take a look at our brand page, one brand you'll come across is Callebaut chocolate. This is a brand that continues to be a customer favorite of ours and other professionals in the field. Once you get to know a bit more about the brand and some of the products we carry from it, you'll have a better understanding of why.
A Brief History of Callebaut Chocolate
Often referred to as a "chef's favorite," Callebaut chocolate has been around for generations. The brand of chocolate originated in a small town in Belgium in 1911, and over the years, the recipe was carefully perfected to reach its rich and signature chocolate taste.
In the 1960s, Callebaut chocolate eventually made its way from Belgium to different parts of the world, allowing more chefs to use the chocolate for their own and develop a familiarity with it. It quickly became a worldwide favorite, especially due to its taste and its ability to work easily with.
Since then, the brand has established itself not only in the form of their products but also through its school, flagship store and connection with cocoas farmers in other countries.
There's no doubt that they are thriving in the culinary industry today while sustaining the satisfaction of everyone who gets to try their chocolate in various baked goods and treats.
We are proud to offer a vast array of Callebaut chocolate products on our website so that customers can get it for their own. We have plenty of options to choose from in different forms, products, and price ranges to address as many of our customers' needs as possible.
Our Callebaut Chocolate Selection
You have the freedom to narrow down your search and browse our Callebaut chocolate selection by simply going to our Callebaut product page. From there, you can get a better look and idea of what we offer.
If you are looking for recommendations to get a good idea of what you can choose from on our website, consider checking out some of the picks below:
Callebaut Milk Chocolate Callets 832 NV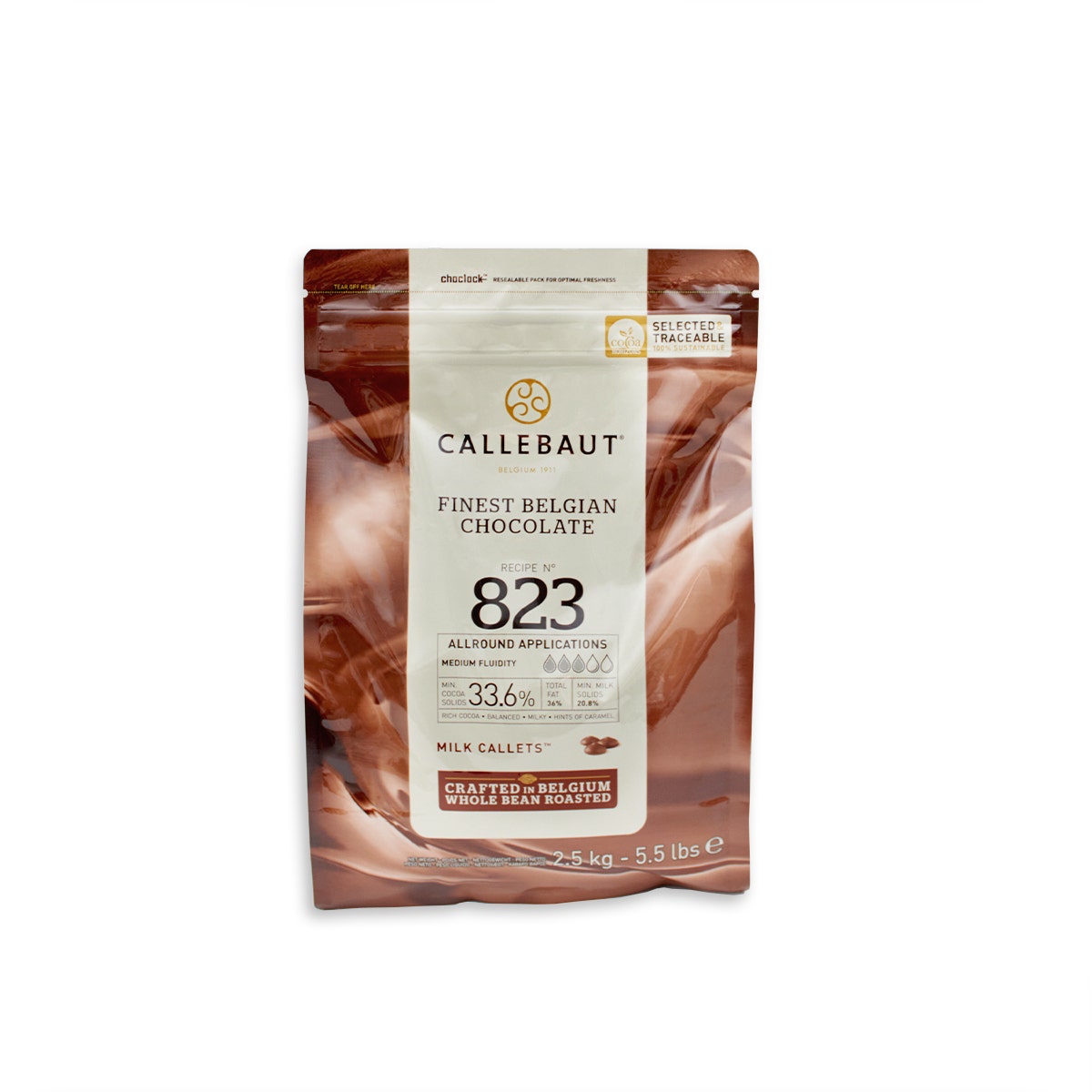 If you are looking for milk chocolate that is perfect for baking, you can't go wrong with callets. The Callebaut milk chocolate callets are credited for their milky, rich cocoa taste, while also having incredible workability. Like many Callebaut chocolates, this one is considered to be a preferred pick from chefs all around the world.
These milk chocolate callets have a cocoa content of 33.6% so you can enjoy its natural cocoa flavor, while also getting hints of caramel flavor in it as well.
Callebaut White Crispearls - 800 grams (1.76 lbs)
Get creative by adding a decorative touch to your baked goods with white crispearls from Callebaut. These crispearls have an elegant look to them if you'd like to use them for decorative purposes, or you can even eat them on their own.
In terms of taste and texture, you can still expect Callebaut's notable taste with a crunchy texture to it.
There are many ways you can incorporate this into your baked goods for your use. This includes adding into ice cream or mixing it with chocolate mousse. Regardless of how you decide to consume these, they will sustain their look and enhance your completed creation.
Callebaut Dark Chocolate Bars 811NV - 11 lbs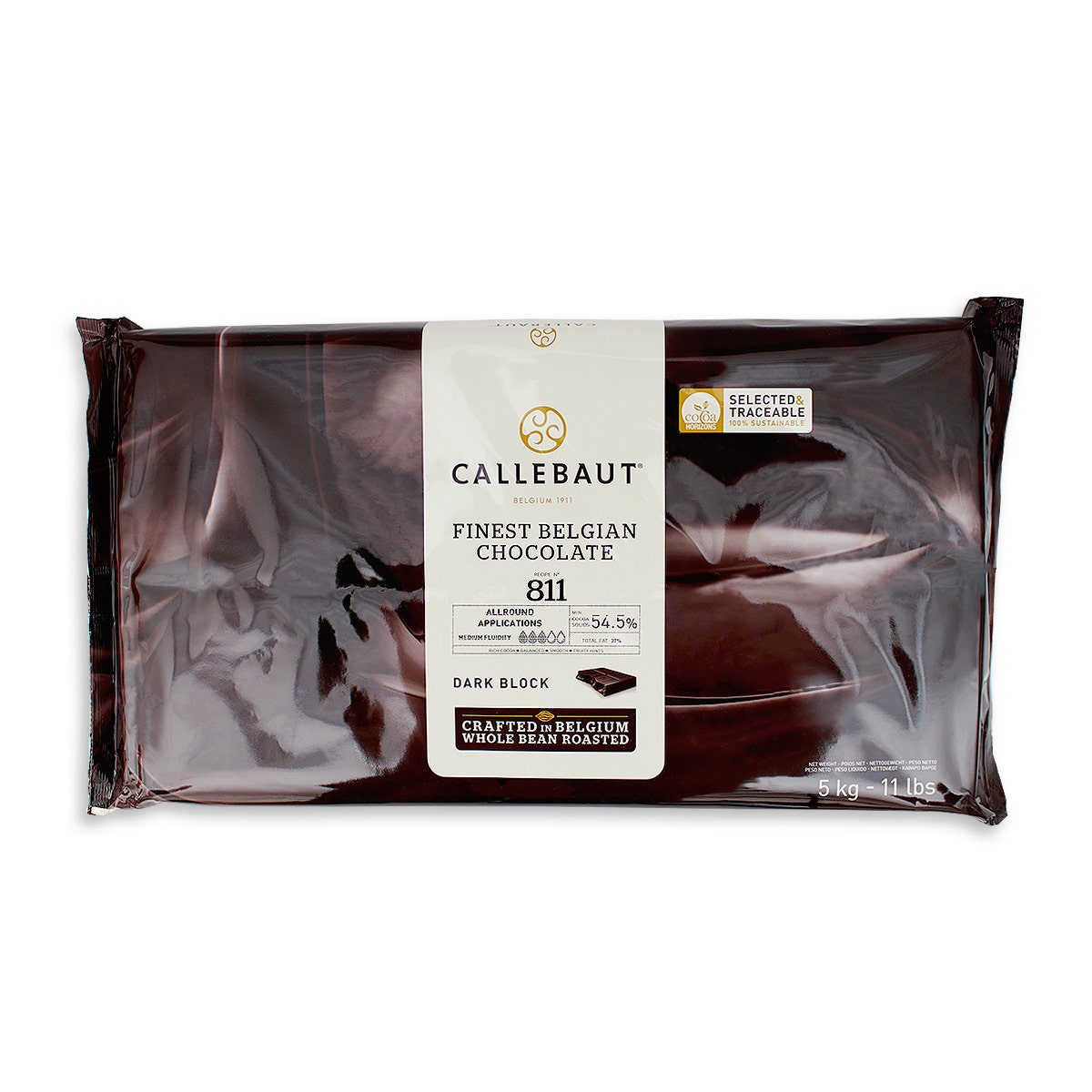 Callebaut Chocolate Unsweetened Cocoa Liquor Block
If you're looking for a product that will give you some creativity to create your own delicious chocolate recipe, this liquor block is just what you need. Often referred to as cocoa mass or paste, this product comes as a solid and can be melted when heated.
It is considered a basic ingredient for making chocolate and you can use it for hot chocolate, hot fudge, or any other recipe that requires chocolate as its main ingredient.
What Makes Callebaut Chocolate So Unique?
When you ask about what makes a brand of chocolate stand out amongst the rest, you'll get answers along the lines of its taste. While taste is one of the most distinct parts of Callebaut, you can also expect a lot more.
Flavor
The flavor of Callebaut chocolate is one of the core components of its popularity. With over 100 years of chocolate making, the taste and recipe of the chocolate is perfected to provide the most powerful taste amongst other chocolates. From the process of going from the cocoa bean to the final product, each step is carefully carried out to ensure that the flavor maintains its quality.
Workability
Depending on the Callebaut chocolate product you decide to purchase from our website, you'll often see that many of our product descriptions for the products mention "workability." This refers to the ease of how the chocolate can be worked with. When it comes to this brand, you can expect to have a fairly high level of workability, making it perfect to work into whatever it is you decide to bake.
With baking, workability is important as it can help ease the entire baking process. If you are dealing with chocolate that doesn't have great workability, this can impact your creation's final outcome.
Versatility
From the product recommendations above, you'll probably notice that the products from Callebaut are incredibly versatile. From decorations to chocolate bars and coatings, there's a product that will work for everyone and everything.
No matter what you decide to make with this brand of chocolate, the fans of your work are guaranteed to love it as are you.
How to Choose the Best Chocolate Product For You
With the details above, you may be curious as to how you can find the best product for you from Stover & Company. There are a few features that you have in mind either before or during your time shopping on our website. Below are some things to keep in mind to make sure you are picking the chocolate product that will suit your taste and needs.
Brand/Type
If you have a brand in mind such as Callebaut, you're definitely in the right place. Other brands include Brill, Byrnes and Kiefer, ASM Chocolate, Karps, Merckens Chocolate, Van Leer, Peters Chocolate, and plenty more.
However, not everyone will have the same experience and knowledge of the brands that we offer. If that's the case for you, you can also get an idea of the type of chocolate that you want. Whether that's couverture chocolates, fudge compounds, cocoa powder, chocolate ganache, or more, the choice is yours.
Regardless of what you choose, we have a great selection of chocolates and various products that are guaranteed to enhance your culinary experience in some kind of way.
Quantity/Size
When you shop from our chocolate products, you'll notice that many of our chocolates are sold in bulk quantities. These range from smaller quantities to larger ones depending on the product or the amount that you decide to buy.
Having a rough estimate of how much you'll need beforehand can make that process a lot easier for you, although, we make it easy for you to shop for size on our website. Some sizes you can expect to see are 2LB bags to 2000LB Totes.
Pricing
There's no question that the more you decide to buy in bulk, the higher the price will be. To narrow down your search in terms of pricing, you can enter your minimum price point and maximum price point so that you can be given a list of the products that fit your price range.
No matter how high or how low your budget is, we have products that will meet the needs of plenty of our customers so that they can still get the chance to enjoy quality products and supplies for baking.
Stover & Company - How We Can Assist You
Our customer satisfaction is the ultimate priority for us. We want to give you the best experience when shopping at our store online.
With that said, we want to make sure that you have easy access to our customer service team just as much as you have access to our assortment of products. If you ever have any questions about any of our products or your order, you are more than welcome to contact us.
You can give us a call at 724-274-6314 or email us at info@stovercompany.com. We are available during the week from Monday through Friday at 7:30 - 3:30 EST.