At Stover & Company, we love a recipe that can be adapted to different flavor profiles! Today we're going to take our original recipe for the best chocolate chip cookies ever & give them a seasonal twist.

Introducing Pumpkin Chocolate Chip Cookies! Let's get started!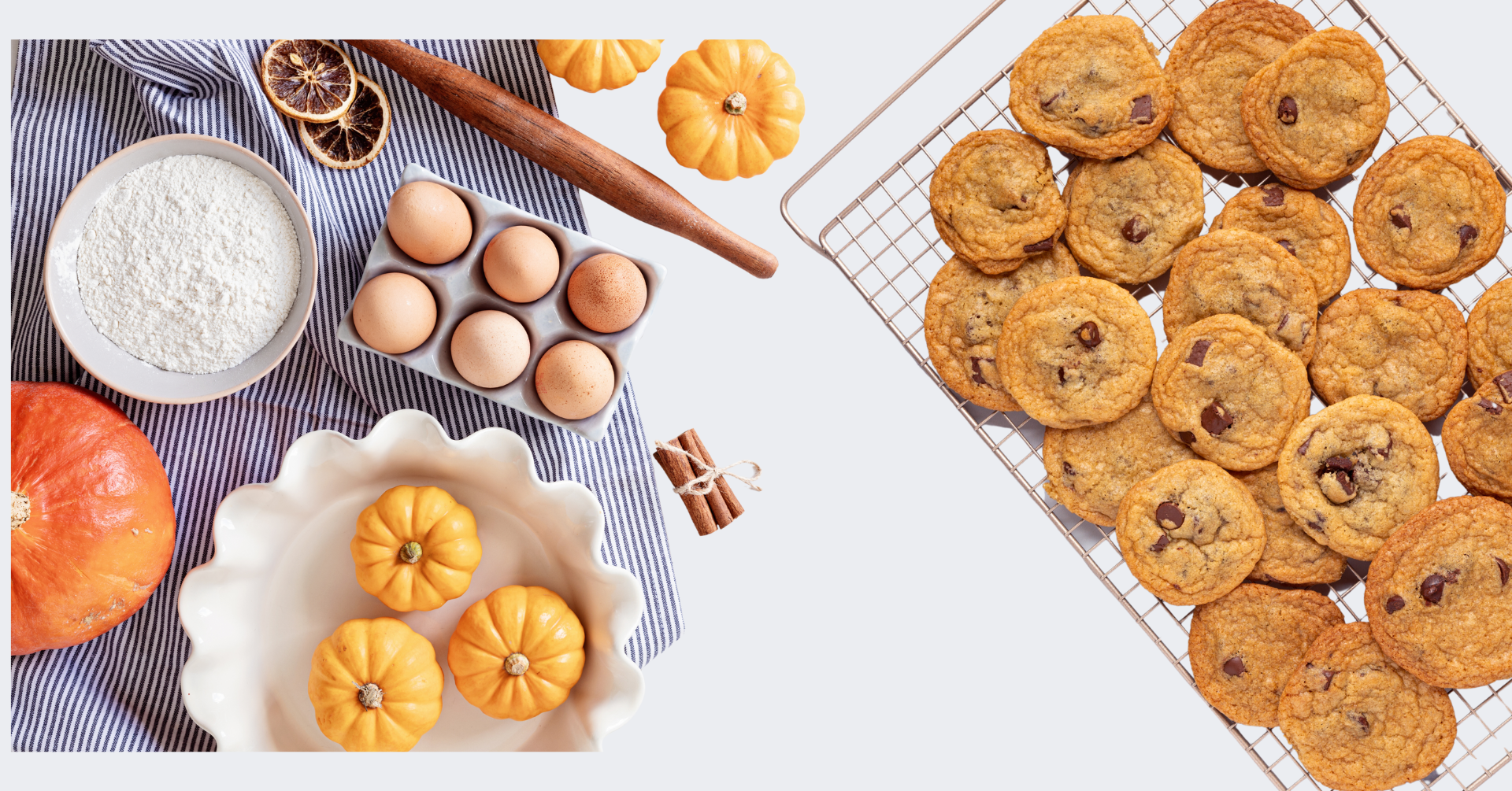 Tools:
bowls
hand whisk
electric or stand mixer
spatulas
baking sheet
parchment paper
Ingredients:
Instructions:
In a medium bowl, use a hand whisk to combine flour, baking soda, cornstarch, salt & spices. Set the bowl aside.
In a separate bowl, with an electric or stand mixer, whisk together butter & both sugars on medium-high for 1 minute.
Add eggs, vanilla & Seneca Pumpkin Puree to mixing bowl & whisk until fully incorporated.
On a low speed, slowly add in the remaining dry ingredients & mix until well combined.
Using a spatula, fold in Sweet Shoppe Chocolate Chips.
Cover your cookie dough & refrigerate for 30-60 minutes.
Remove cookie dough from the refrigerator & preheat your oven to 325°F.
Scoop ¼ cup of cookie dough & roll into individual dough balls. Continue until you run out of cookie dough. (You should have roughly 15-18 dough balls)
Before placing the cookie dough on your baking sheet, tear each dough ball in half then press the two halfs back together to create a slightly messy look.
Place dough balls on parchment paper, leaving enough room between for the dough to spread.
Bake cookies for 12-15 minutes, at 350°F, rotating the baking sheet halfway through. When ready, your chocolate chip cookies should have golden edges & a soft center.
PRO TIP: Your Pumpkin Chocolate Chip Cookies might look slightly underdone. This is normal because of the pumpkin puree. Do not continue baking or they might burn!!
Let cool & enjoy the very best cookies you've ever had.
Makes 10-15 extra large cookies
Share your fall baking with us in our Facebook group: Confection Connection!

Happy baking!