What's new?
There's no better time to update a website than during a time of company evolution. After almost 75 years in the baking & confectionary industry,
Stover & Company is growing now more than ever. Over the past year we've brought you not one, but two exclusive brands featuring
premium products you can count on - but we're not stopping there! We've got plenty more plans for growth which is why we needed a website that could keep up!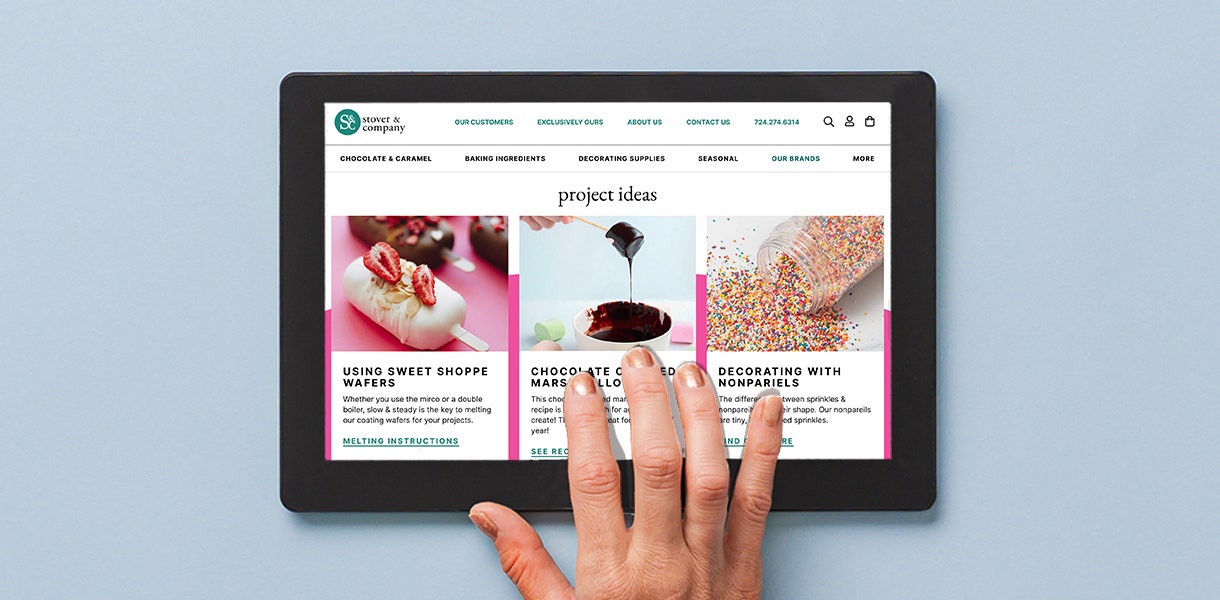 BETTER PRODUCT PAGES
Our new product description pages are jammed packed with useful product information from easy to find nutrition & allergen information to related project ideas, tips & recipes!

We understand that change isn't always easy,
but no need to worry – we're here to help.
FAQ's
Please note ALL existing accounts
will require a password reset

the first time you log into your account.
How do I
login?
Locate the
icon in the upper right corner of any page to log into your existing account or create a new account.
How do I reset
my password?
Head to our login page then click on the green forgot your password link & follow the prompts to reset you account password.
Are my account
details saved?
While most of your details have been saved to your account, you may need to update your payment information the first time you place an order.
Can I see my
order history?
We've made sure to secure your previous orders in your account so you can reference products you've purchased in the past.
new look, same us

CUSTOMER SERVICE
As a 4th generation family-owned business, we treat our customers like family

BEST PRICING
We leverage our supply chain to bring the best value to our customers

FAST SHIPPING
Most orders are shipped the same day you place your order

LARGE STOCK
Our partnerships with the biggest brands bring a vast product selection to our customers

ANY SIZE SHIPMENT
We ship small parcel, freight & international using trusted couriers.
the stover family business
BAKING NEEDS AND A WHOLE LOT MORE!
Stover & Company is a fourth generation family owned distributor of bakery & confectionery supplies. While we have grown significantly since our founding in 1948, our dedication to our customers remains the same. Our team is here everyday to make sure that your business has access to amazing deals on bakery ingredients, chocolate, and anything else you need.
Still need help?
Contact our Customer Service Department at 724.274.6314 for any website questions or to place an order over the phone.